Read time:

1:30min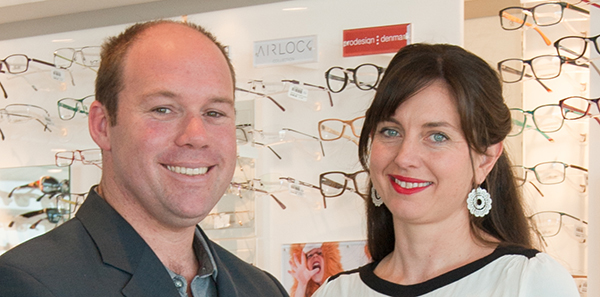 Bayd Rosenbaum and his wife Belinda
______________________________
By Rhiannon Riches
Assistant Editor
Bayd Rosenbaum sought the assistance of EyeQ when he opened a greenfield practice in Merimbula two years ago.
He completed his Bachelor, Masters and therapeutics qualifications at the University of New South Wales. He had worked as a contact lens specialist at UNSW while completing his Masters, and then as a locum, travelling with his wife who is an architect, and their young child.
'We locumed as far north as Townsville and as far south as Hobart. Some positions were short-term, others were for 12 months, including in Port Macquarie and Tamworth. I locumed in Merimbula in 2009 on our way to Tasmania. Later, when I returned to the town, I worked there for a year as an employee with the same practice,' he said.
'We did a lot of locuming between 2006 and 2011, but decided it was time to get off the road after our second child was born.'
Mr Rosenbaum then decided to open his own practice in Merimbula. 'When I was locuming, practice ownership was not high on the list, but my wife and I decided it was the best option for our family and the future.'
Finding a location was not difficult. He knew the size of practice he wanted, and there were only so many options to choose from in the small town with a population of nearly 7,000. He is renting his current premises.
'I knew I'd be doing it on my own. I thought I would need a group to support me and that has proved to be true. Support in marketing, business, HR and payroll is essential when starting out on your own,' he said.
He sought the support of EyeQ. 'I knew someone in the EyeQ group, so it helped start the conversation.' His was the first greenfield EyeQ practice to open.
'I started from scratch as a sole practitioner. Three more greenfield EyeQ practices have opened in the past three months. It is a good model for independent optometrists because you receive expert advice.'
EyeQ assisted him with the fit-out. 'Throughout the fit-out process I was working at an EyeQ practice in Ulladulla about 230 kilometres away,' he said.
'Having my own practice allows me to have a flexible work-life balance, and I can attend Daddy's day at my daughter's kindergarten and so on.'
Mr Rosenbaum has created a working relationship with other EyeQ practices nearby. 'We call them if we need something; they call us if they need something. It's like a co-operative.'
He opened the practice with his wife but growth in the business has been strong and he now employs a dispenser and a trainee dispenser. 'Merimbula is an important regional centre and patients travel long distances to us from outlying towns,' he said.
EyeQ Merimbula provides bulk-billed and privately billed services. 'We bulk-bill where possible, including children and pensioners. Ancillary testing involving retinal cameras and OCTs has a charge,' Mr Rosenbaum said.
Related articles
ProVision support from ground up
Filed in category:
Uncategorised