Read time:

1:30min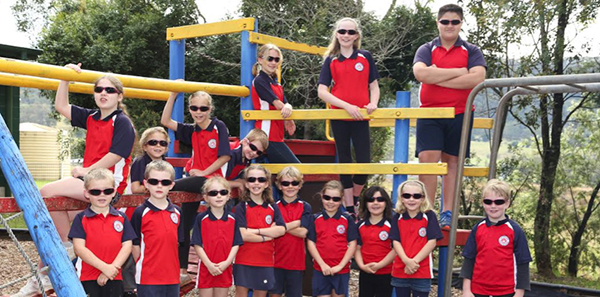 All 16 students at Afterlee Public School in Northern NSW wear sunglasses to school
______________________________
By Rhiannon Riches
Assistant Editor
A story about a father who has started a campaign to get every Australian child wearing sunglasses at school has started to turn heads.
The story, first published on the website of Good Vision for Life, an initiative of Optometry Australia, was being shared on Facebook within hours of publishing.
Father and remote school teacher David Whetton has given up his teaching job to start School Shades, a business which supplies shatterproof polycarbonate sunglasses in school colours to schools and preschools.
In 20 months, 170 schools, many from remote and rural areas, have signed up for sunglasses.
Mr Whetton told Good Vision for Life that the Federal Health Minister and Education Minster are aware of his mission and are supportive.
'If a child wasn't wearing a hat and came home sunburned, parents would be jumping up and down, but you may not see the effects of sunburn on a child's eyes for another 20 years,' he said.
Mr Whetton started the business after an ophthalmologist detected an early indication of UV eye damage in his four-year-old son. His son was being examined after presenting with a blocked tear duct when the ophthalmologist noticed pingueculae.
Mr Whetton was advised to ensure his son wore sunglasses when outside, in addition to regular check-ups to ensure the pingueculae didn't develop further into pterygia.
A handful of schools including Ivanhoe Central (Central NSW), Hargreaves (near Mudgee in NSW) and Tibouburra Outback School have made sunglasses during play time mandatory but in most schools it is not compulsory.
RELATED:
Filed in category:
Uncategorised