Read time:

1:30min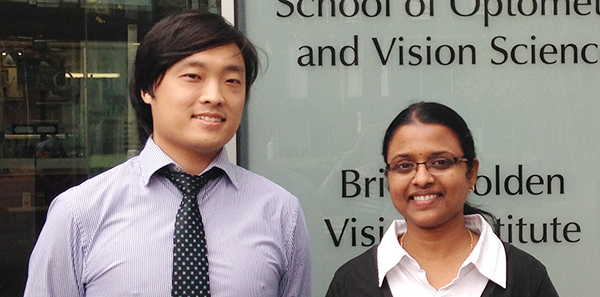 Jack Phu and Preeji Mandathara   Photo: UNSW School of Optometry and Vision Science
______________________________
By Helen Carter
Journalist
Optometrists and PhD students Jack Phu and Preeji Mandathara will use the prize money they receive from prestigious fellowships to continue their research in glaucoma and keratoconus, respectively.
They are recipients of two of the nine 2016-2017 William C Ezell Fellowships from the American Optometric Foundation.
Both teach at and are undertaking their PhDs at the UNSW School of Optometry and Vision Science.
They will receive their awards at the American Academy of Optometry's annual meeting in Anaheim, California during an American Optometric Foundation annual celebration lunch on 12 November. The foundation, an affiliate of the academy, is a philanthropic organisation that develops and provides financial support for optometric research and education in vision and eye health to improve patient clinical care.
The Ezell Fellowship program is named after the foundation's founding president, optometrist William Ezell, and was established to provide recognition and support to talented graduate students who are pursuing an advanced degree in optometric research and education.
Mr Phu is a staff optometrist at the Centre for Eye Health and teaches clinical optometry, ocular disease and ocular therapeutics. He is also a Fellow of the American Academy of Optometry.
As the Optometric Glaucoma Society Ezell Fellow, he will receive a $10,900 (US$8,000) award to enable him to continue his research on the early detection of functional loss in glaucoma.
'We are trying to optimise visual field parameters so that we can detect more changes in patients with early stage glaucoma and improve the structure-function relationship between the optic nerve and visual field parameters,' he said.
'It was humbling to be chosen because the other applicants, and recipients in previous years, are very talented and I am very grateful for the support of my referees who commented on my research and teaching.'
Keratoconus research
Ms Mandathara is the Vision Impact Institute Ezell Fellow. Her $10,900 (US$8,000) award, sponsored by the institute, will enable her to continue her PhD research investigating the role of corneal nerves and tear neuro mediators in keratoconus and its management, and to attend and present her research at international conferences.
Ms Mandathara formerly worked as a consultant optometrist in the contact lens department of LV Prasad Eye Institute, Hyderabad, India and was involved in the contact lens management of keratoconus patients.
'I was particularly interested to find an answer to why some keratoconus patients are intolerant of contact lens wear even after achieving an ideal contact lens fitting,' she said.
'My research will help to understand the role of corneal nerves and tear mediators in keratoconus and its management and thus will help to develop therapeutic interventions to treat keratoconus or improve contact lens tolerance.
'This may help to delay or avoid the need for corneal transplantation in these eyes.'
Ms Mandathara, who teaches evidence-based optometry, said she was very excited to receive the 'highly competitive and prestigious award'.
Funding for the Ezell fellowships is provided by optometric companies, private endowments and business organisations representing sectors of the industry. The other recipients were from the USA, apart from one who was from Spain.
Filed in category:
Uncategorised