Read time:

1:30min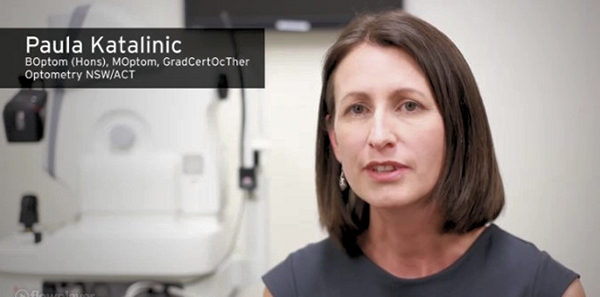 Paula Katalinic
______________________________
By Rhiannon Riches
Assistant Editor
Sydney optometrist Paula Katalinic has filmed an educational video on diabetic retinopathy, which will be launched in February as part of Optometry Australia's GP referral campaign.
The campaign aims to heighten awareness among general practitioners of the role of optometrists and increase referral pathways.
The campaign launched in October with print advertisements in Medicine Today, Australian Medicine and Australian Family Physician. Combined, these publications have a circulation of 81,000. Digital advertising banners were placed on the Australian Medical Association's website and in January will feature on the Royal Australian College of General Practitioners website. These websites combined have 322,000 page views per month.
Results to date from the ama.com.au portion of the campaign are strong with 187,000 impressions, or the number of times that our advertisements have been shown online, delivered to date. This has resulted in 121 clicks through to our GP referral page on the Optometry Australia website.
Optometry Australia's national brand and corporate relations manager Kerry I'Anson is heading the campaign.
'In January racgp.org.au advertising will commence, and in February we will launch an educational video and banner advertisements on the ThinkGP website. The video will highlight expert commentary on how GPs and optometrists can work together to manage diabetic retinopathy,' Ms I'Anson said.
'In the video which we filmed on 17 November, Paula Katalinic provides expert advice on diabetic retinopathy and explains the role of the optometrist in its diagnosis and management,' she said.
Ms Katalinic is principal staff optometrist for the Centre for Eye Health and professional services manager for Optometry NSW/ACT.
Ms I'Anson said the 5-10 minute video would be available for viewing on the ThinkGP website from February and will remain on the website for 12 months.
'Advertising banners will be featured on the ThinkGP website for four weeks when the video is launched. We will also place banner advertising in the weekly ThinkGP newsletter over a period of four weeks,' she said.
Vital statistics
The ThinkGP website has:
16,900+ GP users
500+ new users per month
16,900+ visits per month (65 per cent returning visitor)
112,000+ page views per month
78,500 unique page views per month
65,000 banner views per month
12 minutes average visit duration
Filed in category:
Uncategorised