Read time:

1:30min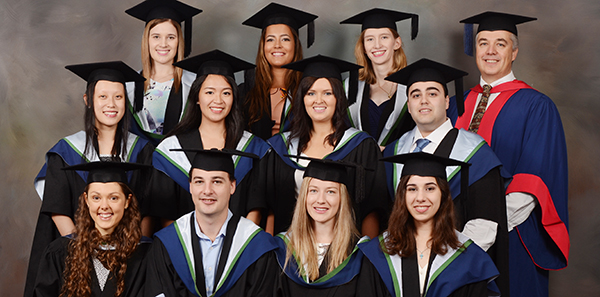 (L-R front) Gemma Surridge, Luke Higgins, Kate Weller, Anna Gatsios; (middle) Mary Suen, Lece Xu, Vanessa Partington, Jason Didone; (rear) Sophie Van Kleef, Tamra Karolewicz, Lauren Field, Professor Konrad Pesudovs. Absent: Dean Milner.  Photo: GFP Studios
__________________________
By Helen Carter 
Flinders University's first optometry graduates celebrated their graduation ceremony at the Bedford Park campus on 16 April.
Friends and family congratulated the nine female and three male graduates who are all now practising optometrists working in rural and urban settings across South Australia, Western Australia, Victoria and New South Wales.
Four received the inaugural optometry program awards.
Gemma Surridge was awarded the Bachelor of Medical Science (Vision Science) and Master of Optometry Academic Excellence Prize, Luke Higgins received the Rural and Remote Clinical Optometry Award, the Clinical Excellence Award in Optometry went to Tamra Karolewicz and Sophie Van Kleef received the Paediatric Clinical Optometry Award.
Foundation Chair and Head of Optometry at Flinders University, Professor Konrad Pesudovs, presented the prizes at the ceremony.
Professor Pesudovs said at the event that he was immensely proud of the inaugural graduating class.
'Today is a significant milestone for this group as they have worked incredibly hard over the past five years to meet the rigours of the Flinders Optometry double-degree program. I am equally impressed by the impact these graduates are now having within the profession and their contributions to a range of optometric settings,' he said.
'More than 50 per cent have elected employment in regional practices, a major goal of our program. We have graduates supervising current students, a number pursuing speciality practice and others disseminating knowledge of evidence-based optometric practice among peers.
'I wish our graduates every success and look forward to witnessing their achievements in the future.'
The new graduates are spread nationwide, practising in Adelaide, Perth and Melbourne, the South Australian towns of Port Lincoln, Berri, Whyalla and Victor Harbor, the Victorian towns of Bendigo and Wangaratta, and Leeton in NSW.
Most are working in optometric practices but two are practising at the Australian College of Optometry in Melbourne and the Royal Society for the Blind in Adelaide. Two also divide their time between Adelaide and regional practice in Berri and Whyalla.
The five-year double degree consisting of Bachelor of Medical Science (Vision Science)/Master of Optometry was established in 2009.
During their studies, students performed more than 500 eye examinations and participated in six placements of six weeks each during the final 18 months of their program.
Their experiences were enriched through case-based learning, clinical practice and placement offered by 54 placement partners in various settings to expose them to different optometric styles.
Placements included rural and remote locations, and covered a variety of practice specialities such as low vision, paediatrics, corporate and independent optometry, and ophthalmology and university clinics.
Two hundred students in five year levels are currently studying optometry at Flinders.
| | |
| --- | --- |
| | |
| Gemma Surridge | Luke Higgins |
| | |
| --- | --- |
| | |
| Tamra Karolewicz | Sophie Van Kleef |
Filed in category:
Uncategorised