Read time:

1:30min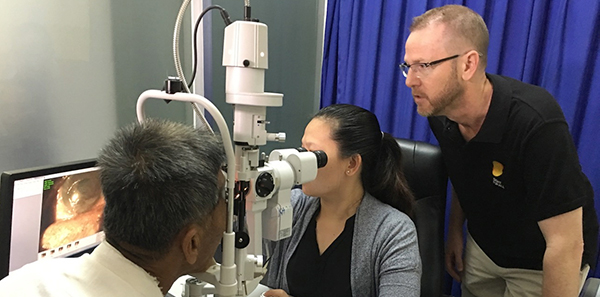 Gavin O'Callaghan (R) instructing Dr Kheng at the Ophthalmology Clinic at the Khmer-Soviet Friendship Hospital, in Phnom Penh, Cambodia in October 2016
______________________________
By Rhiannon Riches
Assistant Editor
Sight For All, a charity which raises funds to deliver eye health care throughout South East Asia, is looking for volunteers to join its sustainable teaching program in Myanmar.
Adelaide optometrist Gavin O'Callaghan travelled to Cambodia last year as part of Sight For All's ongoing contact lens teaching program for ophthalmologists at the Khmer-Soviet Friendship Hospital in Phnom Penh.
Mr O'Callaghan is a board member of Sight For All and treasurer of Optometry Australia.
'Sight For All has been asked to conduct an up-skilling program at the Yangon Eye Hospital in Myanmar. They have graduates of their two-year, mainly refraction-based, optometry course, and they want them to become more proficient at clinical skills and primary care,' Mr O'Callaghan said.
'We have Department of Foreign Affairs and Trade accreditation for this program which is due to commence in July 2017. It will roll out over the following 12 months with one visit per month.
'Australian optometrists can be involved by travelling to Myanmar for one week as a volunteer lecturer or tutor, delivering a prepared syllabus which is sourced from the Brien Holden Vision Institute, and also teaching clinical skills in the hospital outpatient clinic,' he said.
'I need five optometrists who are prepared to volunteer one week of their time. Sight For All covers the costs of airfares and transfers, accommodation and meals while in-country.
'The syllabus topics include optics and refraction, basic ocular disease, primary care, low vision, neuro-ophthalmology, glaucoma, retina, lids and lacrimal apparatus, ocular pharmacology, binocular vision, orthoptics, paediatric optometry and clinical optometry procedures, although some of these have already been ear-marked by our existing faculty.
'We have delivered some optometry programs in the past to Vietnam and currently Cambodia, but these have been specific to complex contact lens prescribing. This Myanmar program is the first "general" optometry program. Sight For All has a strong background in delivering this type of teaching in ophthalmology, with rosters of Australian and New Zealand ophthalmologists doing one-week trips in the same manner,' Mr O'Callaghan said.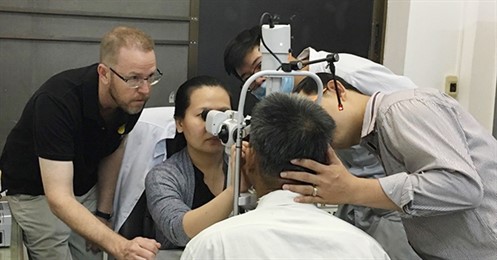 The contact lens teaching program he attended in Cambodia last year will continue this year.
'Optometry Victoria member Richard Lindsay is going across to that same clinic in a few weeks time,' Mr O'Callaghan said. 'Optometry WA member Damon Ezekiel went in February this year.'
Optometry Australia donated textbooks from its Online Store to the program, which Mr O'Callaghan took with him when he went last October.
'The field work is one of the really good collaborations between optometry and ophthalmology. I hope in some small part that my being on their board helps,' Mr O'Callaghan said.
For more information, contact Dr Cesar Carrillo (carrillorozo@gmail.com), Judy Bickmore (bickmorejudy@gmail.com) and Gavin O'Callaghan (gavin@optometryonosmond.com).
Former Optometry Australia national president Kate Gifford has also taken part in Sight For All's contact lens teaching program. READ MORE 
More information: Sight For All 
The Brien Holden Vision Institute conducts a school eye health screening program at Phnom Penh Vision Centre as part of its Our Children's Vision global campaign. READ Stephen's life-changing experience
Filed in category:
Uncategorised