Read time:

1:30min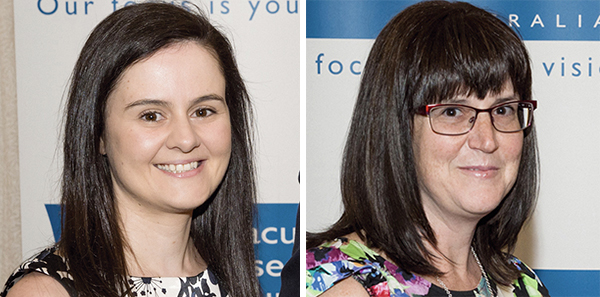 Dr Laura Downie (L) and Dr Isabelle Jalbert at the presentation of their commemorative plaques by the Governor General Sir Peter Cosgrove   Photos: Justin Malinowski
______________________________
By Helen Carter
Journalist
Two optometrists are among the latest group to receive grants from the Macular Disease Foundation Australia for their research to improve the care of people with age-related macular degeneration.
Dr Laura Downie and Dr Isabelle Jalbert and four other Australian researchers received a combined $1.3 million in research grants from the foundation on World Sight Day, 8 October, at Admiralty House, Sydney.
Dr Jalbert is senior lecturer and deputy head of school, School of Optometry and Vision Science, UNSW Australia. Dr Downie is a lecturer and clinical leader, Department of Optometry and Vision Sciences, University of Melbourne. They each received a grant of $100,000.
Dr Jalbert and co-investigators Associate Professor Bamini Gopinath and Dr Gerald Liew received a new grant, the Blackmores Macular Disease Foundation Australia Research Grant.
Their project aims to identify barriers and enablers of optimal AMD care, and gaps in care delivery and adherence to care to determine interventions to improve care. The research will identify knowledge and understanding about diet, supplementation and lifestyle modifications to pinpoint areas where targeted health interventions should be planned.
'We have known for years that smoking and poor diet are risk factors for development and progression of AMD but despite evidence-based recommendations on these modifiable risk factors, eye-care practitioners' advice and adherence to these recommendations in AMD patients can be very poor,' Dr Jalbert said.
'Even if they recommend patients don't smoke and advise what to eat, patients don't always do what they are told,' she said.
The project will use focus groups and interviews to survey optometrists, ophthalmologists, patients and carers to determine their views, knowledge, attitudes and practices in this area. Patients will reveal what they are told and what they do. 
Translation
Dr Downie's team of Dr Lauren Ayton, Professor Robyn Guymer, Associate Professor Peter Keller and Professor Algis Vingrys aim to use the funds to improve the clinical care provided to AMD patients through a program that enhances the translation of research evidence into every-day clinical practice.
'The project will involve the development of a novel optometric clinical audit tool specifically for AMD, to allow clinicians to assess the quality of eye care that they provide to people with AMD; and the delivery of a national education program to upskill practitioners on contemporary research evidence relating to AMD clinical diagnosis and evidence-based management,' Dr Downie said.
'We anticipate this will lead to immediate, tangible improvements in the provision of eye care to AMD patients. The tool will be based on a new integrated care pathway that I am developing,' she said.
Filed in category:
Uncategorised