Read time:

1:30min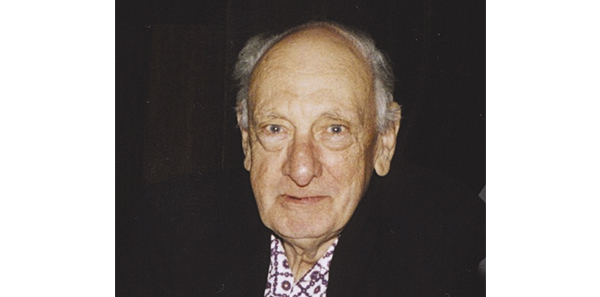 Kenneth Bell
__________________________
By Helen Carter
After 73 years working in optics, contact lens stalwart and long-standing Optometry NSW/ACT member Kenneth Bell is retiring, heralding the end of an era.
Mr Bell, 87, started in the industry at the age of 14 years, when apprenticed as an optical mechanic in the practice of WG Kett, a national president of the Australian Optometrical Association.
'My uncle Jim Bell was an optometrist and he arranged a job for me so I didn't go to gaol,' Mr Bell joked. He later matriculated and studied optometry at Sydney Technical College.
'The changes that have occurred in optometry are absolutely fantastic—the technology such as OCTs and retinal cameras—compared with what we had,' he said. 'The changes in contact lenses have been fantastic, too.'
Mr Bell closed his Sydney practice in 2000 but continued working two days a week until 2005 for optometrist Colin Wood and then consulted regularly in John Della Marta's practice but has now decided it is time to retire.
Mr Bell made a huge contribution to contact lens practice in Australia and internationally, particularly through his involvement in the Cornea and Contact Lens Society of Australia.
One of only two life members, he was its secretary for 40 years from 1969 to 2009 and through the organisation, was pivotal in helping develop Australian Standards for contact lenses.
Optometry NSW/ACT CEO Andrew McKinnon said it was genuinely the end of an era as Mr Bell was probably the oldest member of the NSW organisation and the longest surviving member.
'I've known Ken for the entire time I have worked for the optometrists' association, mainly through the CCLSA. He has always been a very strong and passionate advocate for excellence in clinical care, and has done his utmost to promote that in contact lens and general optometry practice.'
Former national president of the CCLSA, now Optometry Australia professional services manager, Luke Arundel said: 'Ken's passion and enthusiasm for supporting the contact lens society was inspirational. We really appreciate all the tremendous work that he put into making the society the success it is today.'
CEO of the CCLSA, Dorothy Carlborg, said Mr Bell had done an outstanding job and was very much appreciated.
'Ken was always around and was a great adviser,' she said. 'He had a great interest in contact lenses and the day to day running of the society. He is such a wonderful guy and everyone really cares about him.'
Mr Bell is still honorary treasurer on the CCLSA board but plans to retire in May.
Contribution
He practised in Singapore and was the first optometrist there to fit corneal micro lenses, opened a branch in Malaysia and was among the first optometrists in Australia to embrace PMMA corneal lenses.
Mr Bell's practice in Sydney housed the office of the CCLSA, which was inaugurated in 1962 to promote research in contact lens work and encourage interchange of ideas and experience.
He was a driving force behind many of its initiatives to encourage education and research, and foster international exchange including hosting international conferences and providing research grants.
He also served as Optometrists Association Australia's NSW representative on the Optometrists Registration Board of NSW, was a former chairman of the board and a contact lens clinic supervisor at the University of NSW.
The Australian College of Optometry named its Kenneth W Bell Contact Lens Laboratory in his honour in 1992.
The CCLSA awards a prize, the Ken W Bell Medal, to an academic or practitioner for distinguished contributions to the contact lens field.
CCLSA president Jessica Chi will present the medal to Professor Nathan Efron at the International Cornea and Contact Lens Congress on the Gold Coast on 23 May.
Professor Efron will deliver the opening address on the topic of contact lens after-care.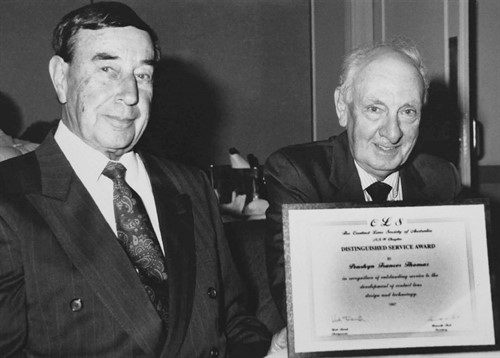 Penrhyn Thomas (L) and Kenneth Bell, 1997
Filed in category:
Uncategorised