Read time:

1:30min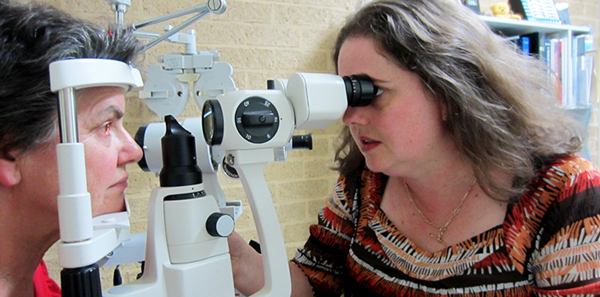 Angela Morris was awarded a scholarship to assist with fees and accommodation costs while studying for her therapeutics endorsement
______________________________
By Helen Carter
Journalist
Scholarships to attend CPD events and to study are available for allied health professionals including optometrists and optometry students working in rural or remote areas in 2016, despite funding cuts meaning fewer rural allied health scholarships will be available overall.
Optometrists who win the scholarships will receive funds to attend a course or conference providing CPD points or to study at postgraduate levels, while students can apply for funds to undertake clinical placement and study at undergraduate levels.
Services for Australian Rural and Remote Allied Health (SARRAH) is offering scholarships through the Nursing and Allied Health Scholarship and Support Scheme (NAHSSS) Allied Health Component.
SARRAH administers these scholarships on behalf of the Federal Department of Health.
Optometrists can apply in two categories and optometry students can also apply in two.
SARRAH CEO Rod Wellington said the organisation provided about 700 scholarships last year in these four categories but a cut of about 30 per cent in NAHSSS program funding meant that there would be a reduction in the total number of scholarships offered and in their value compared with 2015.
'It is anticipated that this will result in an increase in the number of unsuccessful applicants and expected that the reduced financial support may impact on the number of allied health professionals practising in rural and remote Australia,' Mr Wellington said.
Mr Wellington encouraged applicants who live in urban, rural or remote areas, and who provide clinical allied health services such as optometry in rural or remote areas, to apply for the scholarships.
Bathurst optometrist Angela Morris applied for a scholarship after Optometry Australia's eNews alerted her to their availability.
She received a postgraduate scholarship in 2013 to help pay fees and accommodation costs while studying for her therapeutics qualification at the University of NSW in Sydney.
'I wouldn't have been as motivated to take time off my practice if I hadn't received the scholarship,' she said.
'It has all been worthwhile and I am really pleased I did it as [therapeutics knowledge] makes a huge difference to the practice and how I approach things. I encourage other optometrists to apply for the funds as therapeutics is of great benefit to optometry practice.'
The NAHSSS allied health postgraduate scholarship supports practising allied health professionals to study at the Graduate Certificate, Graduate Diploma, Masters or PhD level.
The scholarships are valued at $15,000 a year for a maximum of two years. Applications close on 15 October.
Applications for the CPD ($1,500) scholarship open on 2 December and close on 20 January 2016.
Applications for the NAHSSS allied health undergraduate (entry level) scholarship, valued at $10,000 a year, close on 3 November.
Applications for clinical placement scholarships, valued at $11,000 for a maximum six-week placement, are open and close on 8 October. Placement must be taken within the period from 1 January to 30 June 2016.
Visit www.sarrah.org.au or call 1800 338 061.
Filed in category:
Uncategorised