Read time:

1:30min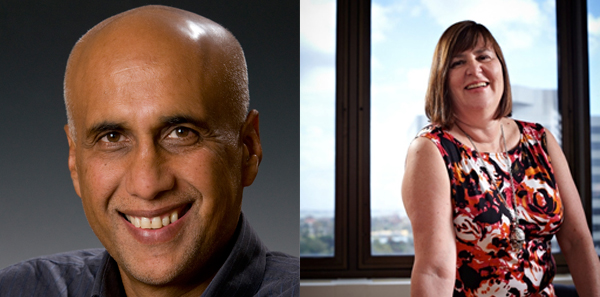 Forecasting the future: Professor Sohail Inayatullah (left) and Professor Niki Ellis, expert speakers during our live interactive webinar on 6 March
______________________________
By Rhiannon Riches
Communications Manager
Optometry Australia has launched a significant new initiative aimed at identifying likely and preferred futures for optometry, optometrists, and community eye health.
In announcing the project, Optometry Australia's CEO Ms Lyn Brodie, said that Optometry 2040 will enable the optometry sector to collaborate to identify, test and consider initiatives to create a sustainable and successful optometry sector over the next 20 years and beyond.
'Optometry 2040 responds to concerns that the future is looking more uncertain for many in the sector. These concerns have arisen due to on-going turbulence resulting from technological, economic, political and demographic change which has caused significant disruption to tried and true practice models, working conditions, patient care, training requirements and communications,' Ms Brodie said.
'Optometry 2040 will use proven techniques to enable the optometry sector to identify potential futures for optometry and what is needed to ensure preferred futures become a reality. This is about collaborating to create and have better control over the future of the profession.
'Change will continue at increasingly rapid rates and rather than hope it may settle, we must embrace and channel the opportunities it brings for the successful sustainability of our sector.
'As the sector's peak professional body, Optometry Australia has made it a priority to help our members take better control of their future,' she said.
Members, along with a wide cross section of optometry sector influencers, will be invited to participate in Optometry 2040 via a series of workshops that Optometry Australia will conduct across Australia between March and September.
They will begin on 6 March when all members will be invited to attend a live interactive webinar. Other workshops will be face-to-face with invitations to extend to members, optometric suppliers, key health care stakeholders, Government, academics and students. Workshops will also be held at Silmo Sydney 2018. Dates and venues are to be finalised.
The outcomes of the workshops will feed into the creation of a multi-decade strategy that will become the blueprint for a progressive Australian optometry sector.
Optometry Australia has appointed two leading experts to assist delivery of Optometry 2040 – Professor Niki Ellis, who has extensive experience in innovation in public health and future forecasting, and Professor Sohail Inayatullah, an Australian academic and one of the world's leading future studies researchers.
______________________________
Filed in category:
Uncategorised