Read time:

1:30min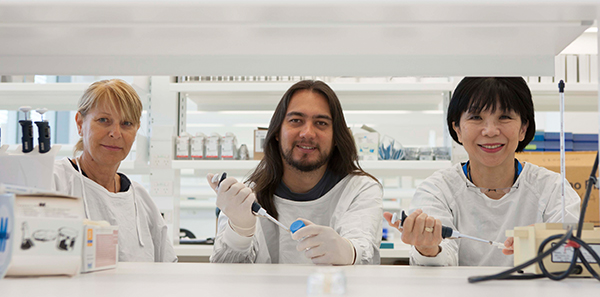 (L-R) Professor Elizabeth Rakoczy, Dr Aaron Magno, and Dr May Lai
______________________________
By Philip Ritchie
Journalist
Professor Elizabeth Rakoczy has received the Florey Medal for genetic research that could replace or reinforce lifelong treatment for patients suffering from wet age-related macular degeneration.
The medal is awarded in recognition of a lifetime achievement in the fields of biomedical science and human health advancement, presented once every two years by the Australian Institute of Policy and Science.
'I accept it in the name of all the people who worked on this project. There are more than 50 of us with different expertise: statisticians, cell biologists, biologists, molecular biologists, ophthalmologists. It has been an enormous effort,' said Professor Rakoczy, a principal scientific investigator and researcher working in Perth.
She said the treatment could be accessed by patients in as little as three years following its success in clinical human trials.
'Wet AMD occurs when the levels of vascular endothelial growth factor proteins (VEGF) and other factors are imbalanced in an eye. Too much of this protein causes abnormal blood vessels to form, which eventually distorts the macular.
Just like the traditional treatment, the gene therapy is based around keeping VEGF levels in check by supplying patients' eyes with anti-VEGF proteins. But rather than a series of injections, a single injection causes cells in the eyes to produce the naturally occurring protein.
'Using gene therapy we deliver a modified virus to establish a bio-factory in the back of the eyes of patients who suffer from wet AMD, and this bio-factory will be happily producing medication, mopping up the extra VEGF,' Professor Rakoczy said.
'These viruses don't multiply anymore because we removed most of the code. They only retain the code required for protein production. Everything else has been removed.'
To test the delivery method, she first injected dogs that suffered from Leber's Congenital Amaurosis type disease and restored healthy vision.
Showing no signs of side effects in dogs, the gene therapy was fast forwarded to human trials where it successfully returned vision to affected eyes, Professor Rakoczy said. Again it showed no signs of side effects.
'We didn't see any problems associated with this new treatment. That's very important because we are applying this delivery method to an ageing population.'
Over four years Professor Rakoczy has completed two phases of human trials against a control group that were administered the traditional treatment, and results have been very encouraging success. The trials involved 40 patients.
'We found more people responded to the gene therapy than the controlled treatment when the response is measured by the maintenance and improvement of vision,' she said.
'Three years post-injection, four people had significant improvement from 21 patients. None of the controlled treatment had significant improvement at this point of time.'
Professor Rakoczy said the dogs first treated with gene therapy have retained their vision for four years since the injection.
'What we learned from this work is that gene therapy can deliver a gene into the eye and it can remain operational for years. Operational means it is acting like a bio-factory, producing the missing gene.'
Professor Rakoczy said over time, in an elderly patient for example, the treatment's effectiveness could reduce as the numbers of bio-factory-capable cells are lost, but top-ups from the traditional treatment can be used to fortify the effects.
The gene therapy has been licensed to the US company Adverum Biotechnologies, which has raised more than $400 million to develop, trial and bring the treatment to consumers.
Professor Rakoczy said the next step is to make some modifications to the treatment and conduct further clinical trials next year.
Filed in category:
Uncategorised