Read time:

1:30min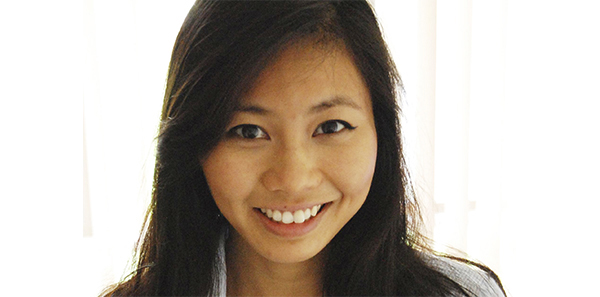 Dr Christine Nguyen  Photo: University of Melbourne
______________________________
By Helen Carter
Journalist
Gradual cognitive decline has been linked to worsening peripheral vision in glaucoma patients in the first study to investigate the association between cognitive changes and visual field variability.
The association between neurocognitive decline and visual field variability in glaucoma was reported by American and Brazilian researchers in JAMA Ophthalmology on 18 May.
They wanted to determine whether people who developed cognitive decline over time experienced an increase in variability of standard automated perimetry results, and explore implications of cognitive decline on management of glaucoma.
The observational cohort study tested thinking skills such as concentration, memory, calculations, awareness, attention and language in 115 patients who were diagnosed with glaucoma or glaucoma suspects. Standard automated perimetry was conducted in 211 eyes at the start of the study and again up to almost five years later. The mean follow-up time was 2.5 years.
The study found a significant, clinically relevant association between cognitive decline and visual field variability with cognitive decline associated with increased visual field variability, and decreases in mental skills linked to worsening peripheral vision over time.
A five-unit decline in the Montreal Cognitive Assessment score was associated with an increase of 0.23 dB in the standard deviation of residuals of standard automated perimetry mean deviation.
Researchers said this corresponded to about a 30 per cent increase in variability, which would be likely to result in a clinically appreciable worsening in the ability to detect visual field change over time.
'An increase in visual field variability can delay detection of true disease progression, potentially resulting in irreversible visual function loss,' they wrote.
'In addition, variability may also result in an increase in the number of visual field sequences being declared as having progressed when in fact no true change has occurred. These false-positives may lead to unnecessary escalation of treatment with potential adverse effects to patients.'
Visual fields: more than meets the eye
University of Melbourne glaucoma expert Dr Christine Nguyen told Optometry Australia that it meant optometrists seeing visual field progression in glaucoma patients should be aware that if patients have poor or declining brain health, this could influence their findings.
Dr Nguyen, Head of the Ocular Biomarker Laboratory at the University of Melbourne Department of Optometry and Vision Sciences, said the study added to the current evidence which indicates there may be a link between glaucoma and cognitive decline.
'What this means for optometrists is that if their glaucoma patient has poor or declining brain health, this may increase the variability in their visual field measurements. Given the eye is an out-pouching of the brain, it is not surprising that there is a link between sick and dying nerve cells in the retina and in the brain, Dr Nguyen said.
'There is increasing evidence which indicates that the eye exhibits signs of multiple neurological disease including multiple sclerosis, Alzheimer's disease, Parkinson's disease and psychological diseases.'
Dr Nguyen has a paper in Pharmacology & Therapeutics on this issue, entitled 'Retinal biomarkers providing "insight" into cortical pharmacology and disease.'
The researchers said studies suggested that 10 to 20 per cent of adults aged 65 years and older may have mild cognitive impairment and it was likely that many glaucoma patients might develop mild cognitive impairment in the course of their follow-up.
An invited commentary said the results highlighted the importance of considering non-visual factors such as cognitive dysfunction when caring for glaucoma patients, many of whom may be at high risk for multiple medical and neuropsychiatric comorbidities.
It said researchers could not establish a definitive cause-effect relationship and plausible confounding factors might be associated with cognitive decline including the instrument used to determine cognition relying on interpretation of visual objects.
Filed in category:
Uncategorised