Read time:

1:30min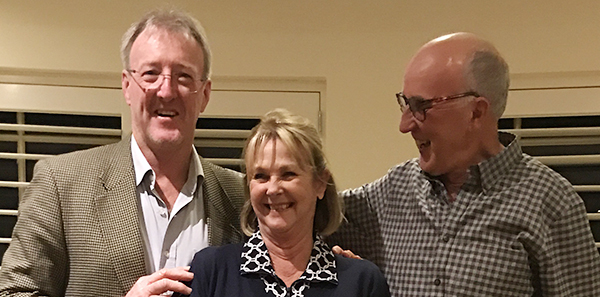 (L-R) Geoff Lawson, Rosemary Smith and Tim McKinnon  Image: Optometry Giving Sight
______________________________
By Helen Carter
Journalist
Golfers support OGS
Fifty golfers raised nearly $9,000 for Optometry Giving Sight at the annual Tim McKinnon Golf Cup at the NSW Golf Club in La Perouse, Sydney.
The overall winner was Geoff Lawson with a score of 43 off a handicap of seven and Rosemary Smith was the women's winner.
OGS thanked the players, and sponsors Optiqueline, CR Surfacing, BOC Instruments, Good Optical Services, Mimo, The Optical Company, Designs For Vision and Tiger Vision.
Tim McKinnon is an optometrist who ran a golf day in Moss Vale for many years to raise funds for OGS. When he retired OGS took over the running of the event and named it after him. The proceeds of the event help OGS to fund eye-care programs around the world.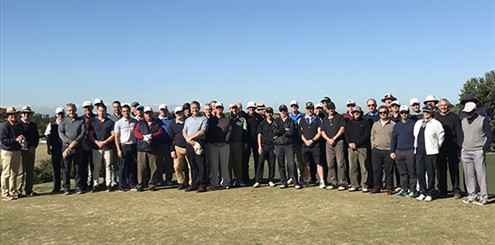 Golfers at the Tim McKinnon Golf Cup   Image: Optometry Giving Sight
MyHealth1st signs Eye2Eye
1st Group has signed a subscription deal with Eye2Eye Media Group to add 350 more optical stores to the MyHealth1st platform, according to an ASX press release.
Eye2Eye is an optometry marketing specialist company.
MyHealth1st says 60 per cent of independent optometrists nationally or 1,200 practices, covering more than five million Australians, use MyHealth1st online appointment booking portal with products including feedback and recalls. 
Contact lenses recycled
People can recycle their used contact lenses and blister packs, and turn them into sustainable products such as garden furniture and watering cans.
The Bausch + Lomb Recycling Program, an Australian first conducted in partnership with recycling pioneers TerraCycle, allows people to recycle any brand of used contact lenses and blister packs free of charge. Patients sign up, collect their used items in a box, download a shipping label and drop the package into an Australia Post outlet.
The contact lenses and plastic blister packs are melted into plastic which is remoulded into recycled products. The program donates $1 to Optometry Giving Sight for every kilogram diverted from landfill. 
Language app helps patients
A new mobile app, OpTranslate, is making it easier for English-speaking optometrists to conduct eye examinations on non-English speaking patients.
The app, which is available in the Apple and Google Play app stores, includes written explanations and diagrams that show the patient going through the eye examination.
It includes information about contact lens examinations, diagnoses and binocular vision testing. 
Bailey Nelson signs to Oculo
Bailey Nelson's network of 27 optometry practices across Australia has signed on to Oculo, an online communications platform enabling eye-care professionals to share clinical information.
Oculo claims it has more than 1,300 optometrists and 390 ophthalmologists on the platform. 
New Essilor chief
Pierre Longerna, the new chief operating officer for Essilor Australia and New Zealand, will manage the Australian and New Zealand commercial and operations teams.
D Phuong Nguyen, CEO country manager ANZ, will continue to have oversight of the Essilor Group's businesses.
Mr Longerna previously worked in China with a global financial institution before joining Essilor International in 2005 where he held various strategic roles before moving to commercial responsibility for Nikon Lenses in Europe as general manager of Novisia, then moving five years ago to Canada to become Nikon Optical North America president. 
Study of globe injuries
Older people falling and younger adults being injured through assault, often related to alcohol, and working with metal are the main causes of open globe injuries in Australia, a study shows.
The study of 205 open globe injuries presenting to Sydney Eye Hospital over six years found 80 globe ruptures and six perforating injuries, and these had poorer visual outcomes.
Authors included optometrists Annette Hoskin from Lions Eye Institute WA and Lisa Keay from Save Sight Institute, Sydney. They said the initial best corrected visual acuity was useful for non-ophthalmologists who were unfamiliar with the ocular trauma score to help predict the BCVA after treatment.
Filed in category:
Uncategorised