Read time:

1:30min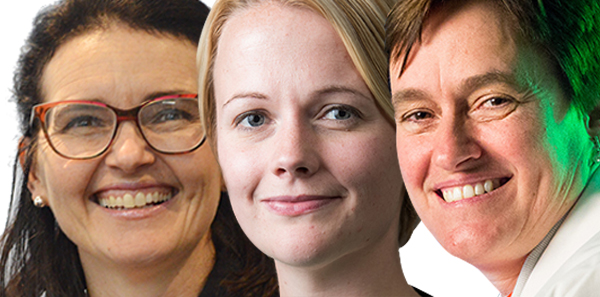 L-R: Ms Annette Hoskin, Dr Lauren Ayton, Professor Erica Fletcher
______________________________
By Helen Carter
Journalist
Three Australian optometrists have received more than $1.8 million in total in new federal government grants to help fund their research on AMD, eye injuries and diabetic retinopathy.
Professor Erica Fletcher, Dr Lauren Ayton and Ms Annette Hoskin were awarded the funds in December 2017 from the National Health and Medical Research Council.
Professor Fletcher, deputy head of the University of Melbourne's Department of Anatomy and Neuroscience, received two grants totalling nearly $1.6 million for research on age-related macular degeneration and diabetic retinopathy.
Dr Ayton received $179,118 to improve patient management pathways in AMD, a project which will continue a collaboration with Professor Robyn Guymer from the Centre for Eye Research Australia (CERA), and develop new training methods to up-skill optometrists on the latest advances in AMD from international research.
Ms Hoskin from the Lions Eye Institute, WA, and Save Sight Institute, NSW, hopes her $53,368 grant will lead to an international register for ocular injury, and ultimately reduce vision loss from trauma through better eye injury prevention strategies and improved management and treatment.
Eye injury register
The funds will enable Ms Hoskin to continue her public health postgraduate scholarship at the University of Sydney and work with Sydney Eye Hospital colleagues and partners in the US, Singapore, South America, China and India to develop an online platform for collection of eye injury data.
Once validated it is anticipated that the data collection tool will lead to improved understanding of the nature of ocular trauma and visual outcomes.
'Eye injury is the leading cause of monocular blindness internationally and more than 90 per cent of these cases are preventable,' Ms Hoskin said. 'My research aims to develop a comprehensive international register for eye injury.
'Working with key international partners we will conduct a large-scale retrospective review to validate our data collection tool. Our aim is to revise out-dated methods of scoring eye injury to better predict outcomes and improve management and treatment of eye injury.'
Ms Hoskin said trauma registries were the best way to determine the nature and outcome of injury, and re-defining the way ocular trauma was recorded and measured would help better understand incidence and epidemiology of eye injuries and hopefully reduce injuries, with the goal of reducing vision loss from eye injuries.
Improving AMD pathways
Dr Ayton, an honorary senior research fellow at the Department of Surgery (Ophthalmology) at the University of Melbourne and CERA, is currently working as Director of Clinical and Regulatory Affairs at the Boston Bionic Eye program in New York, affiliated with Harvard and Cornell universities.
She will postpone her 2018 NHMRC Medical Research Future Fund Next Generation Clinical Researchers program Translating Research into Practice (TRIP) Fellowship until her return to Australia. The project focuses on improving patient management pathways in AMD.
'There are new advances in the field of AMD occurring at a rapid rate, and it is vital that optometrists are educated on these changes in diagnostic and management protocols,' Dr Ayton told Optometry Australia.
'The TRIP fellowship will provide support for new research translation modalities. I am extremely honoured to have been awarded this prestigious fellowship, and am excited about working closely with Optometry Australia and the optometry profession on this project.'
Retinal disease research
Professor Fletcher's $933,952 grant to investigate novel mechanisms of early AMD will enable her to examine a mechanism by which retinal pigment epithelial cells contribute to vision loss early in the disease.
'This four year project focuses on how the retinal pigment epithelium changes during the early stages of AMD and whether treatment prevents cellular changes,' Professor Fletcher told Optometry Australia.
'Cells and their subcellular components need to renew themselves to stay healthy. We think that the way the RPE cells renew themselves decreases with age, and is a critical factor in the way the RPE changes during the early stages of AMD.
'We will use animal models as well as RPE cells derived from patients with AMD to determine how the signalling pathways important for cell renewal are affected during age and AMD.'
They will then trial a novel nanosecond laser and/or two currently used drugs to see if they can slow disease progression.
Microglia in diabetes
The second grant, of $665,582, will enable investigation of the role of microglia in early diabetic retinopathy.
'This project will examine the role that retinal immune cells called microglia have in causing early changes in the vasculature in those with diabetes' she said. 'We will examine whether diabetes changes the way neurons communicate with blood vessels, opening up a possible treatment target that could prevent the progression to more advanced disease.'
In addition to the two NHMRC project grants, Professor Fletcher also received an Australian Research Council grant which focuses on the biology of resident immune cells in the retina and the mechanisms by which they regulate the development of cone photoreceptors.
'Our work has shown that cone function doesn't develop in a normal manner when microglia signalling is disrupted. This project will examine the molecular biology – the genes expressed by individual microglia – and explore how they communicate and change photoreceptors,' she said.
'Although this project is highly focused on biology of the normal retina, it has long term benefits for our understanding of AMD because patients with AMD often have mutations affecting microglial function.'
______________________________
Filed in category:
Uncategorised