Read time:

1:30min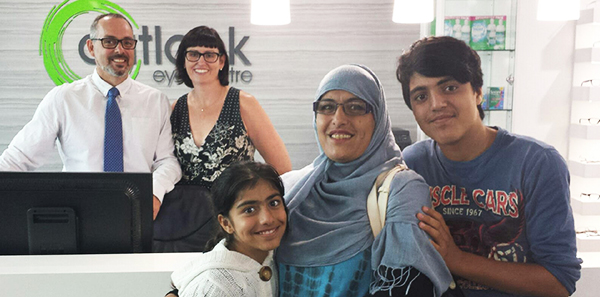 Practice Manager Andrew Speed and optometrist Shannon Smith, with Afghani refugees Mahboba Younasi, her daughter Maryam and son Amin who were referred by Mercy Community Services
______________________________
By Ashleigh McMillan
Journalist
The Essilor Vision Foundation launched a major eye screening initiative in Toowoomba today, the first of its kind by the not-for-profit body in Australia.
Patients from Mercy Community Services and Toowoomba Clubhouse will receive comprehensive eye examinations from local optometrists during the day, with the foundation providing free prescription glasses to patients who need them.
Greg Johnson, chief executive officer of the Essilor Vision Foundation, said it had been an exciting time in the life of the foundation since planning started 10 weeks ago.
'It'll be such a relief from today to connect with optometrists new patients who otherwise would not have been patients, and get some fantastic results,' he said.
The patients will visit two local optometrists for their screenings over the coming weeks.
Mercy Community Services provides support to more than 4,000 refugees and migrants who have moved to the Toowoomba area in the past five years. The other site for the pilot program, Toowoomba Clubhouse, supports 800 local residents who have experienced mental illness.
'They cater for populations of people that you could say might have been forgotten and left behind in society and are dealing with a whole lot of issues in their lives,' Mr Johnson said.
'The Essilor Vision Foundation is reaching out to those people who simply do not have access to eye health checks and cannot afford to get a pair of spectacles.'
Mr Johnson said future screenings would be on a larger scale, facilitated by optometry students and optometrists who donated their time, and that there had already been significant interest from the profession.
'At AVC last week, about 100 optometrists signed up [to volunteer] after a simple request of lending me a day a year to help with vision,' he said.
The foundation is planning to undertake screening programs in two Toowoomba primary schools in May, and will examine the vision of more than 300 children.
The pilot program will visit Holy Name Catholic School, which has a large number of refugee students, and Harlaxton State School, where 50 per cent of the small student population is Indigenous.
'You couldn't have asked for two better schools,' Mr Johnson said. 'They're probably feeling left behind in certain cases, and for an external agency and the optometry profession to step in and say we can make a difference in the lives of these kids, they'll feel pretty special about where they are.'
Following the initiatives in Toowoomba, the Essilor Vision Foundation will be meeting with members of the Education and Indigenous Affairs portfolios. Queensland Senator Joanna Lindgren has joined as a patron of the foundation.
Filed in category:
Uncategorised