Read time:

1:30min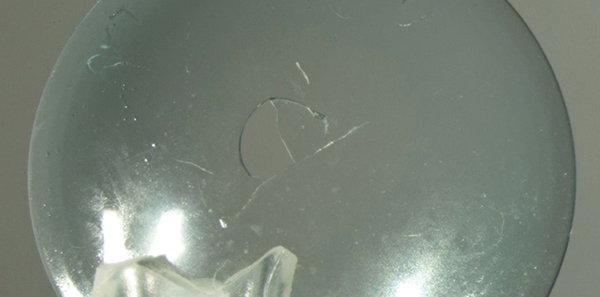 Figure 1. Case Study 1. Slitlamp examination revealed a small central hole through the lens   Image: Flinders Ophthalmology
______________________________
By Tony Phillips
Optometrist in general practice
Associate Professor, Head of Contact Lens Teaching, Optometry and Vision Science, Flinders University
In the space of a few weeks I saw three interesting contact lens cases with useful lessons to be learned.
Case 1. Holey
The first was a mentally challenged 35-year-old male who lives with his mother. He has RGP lenses for keratoconus, which are worn on an 'all day, every day' basis. After experiencing for some weeks a slightly sore, hyperaemic left eye with a slight discharge, he visited his GP who had prescribed Chlorsig.
When the symptoms persisted, he had returned one week later to his GP who simply added a steroid. Two weeks later, the symptoms were still present so he arranged to see me.
Slitlamp examination revealed a small central hole through the lens (Figure 1). On questioning, he remembered having dropped the lens a few weeks earlier and thought that perhaps he had trodden on the lens before finding it.
Amazingly the symptoms were minimal considering the state of the lens, and his vision was only minimally affected.
LESSON
The first case shows the poor case history taking by the GP who apparently never asked if his patient was wearing a contact lens. Referral to a local optometrist would have been more appropriate rather than the blanket antibiotic approach.
Case 2. Chipped and fractured
The patient was a 50-year-old male who successfully wears RGP lenses for his moderately high myopia. He came to me, complaining of slightly blurred vision in his left eye.
There was no obvious refractive change but his visual acuity had dropped from 6/6 to 6/7.5. Slitlamp examination showed a small front surface chip out of the lens with fine radiating fractures. This is shown in Figure 2 but is difficult to picture in its real state.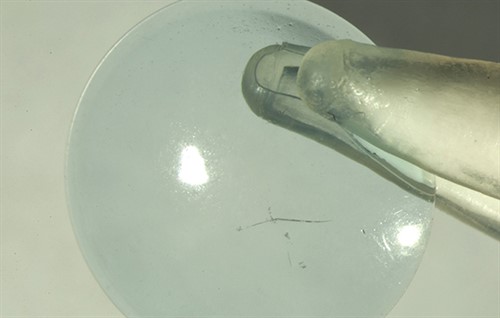 Figure 2. Case study 2. Slitlamp examination showed a small front surface chip out of the lens with fine radiating fractures   Image: Flinders Ophthalmology
It was obvious that his lens had been hit by a very high-impact projectile. To crack an aligning RGP lens while still being worn requires a great deal of localised force.
On further questioning, he recalled that a few weeks earlier he had been drilling a hole through a piece of metal—while not wearing protective goggles—and had felt something hit the eye. When he realised that it didn't hurt, he had simply continued his work.
There was little doubt that had he not been wearing an RGP lens, he would have had a penetrating eye injury and possibly lost the eye. Having pointed this out to him, I was completely confounded when he simply changed the subject.
LESSON
The second case shows the need to keep reinforcing advice regarding the wearing of proper eye protection. Nevertheless, the wearing of the RGP lens undoubtedly saved this patient from a severe eye injury and possible loss of the eye.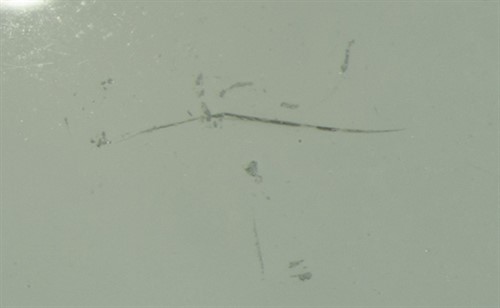 Figure 3. Enlargement of chip and fractures shown in Figure 2   Image: Flinders Ophthalmology
Case 3. Shattered
This patient was a 65-year-old female with severe rheumatoid arthritis who wears a left full scleral lens to protect her largely anaesthetic and very dry eye. She usually removes her lens at night and applies a viscous ocular lubricant, sometimes with additional patching.
A few days prior to seeing me, she had started to drift off to sleep at night then suddenly remembered that she had not removed her lens. She sat up in bed and started to bend down to find her torch.
In the total darkness she hit her left eye against the end of the metal frame that was kept by the side of the bed to help her raise herself up. The force was sufficient to break the lens in her eye. Being disabled, all she could do was use her bedside phone to dial triple zero.
The ambulance personnel were able to remove the majority of the lens from her eye and this was completed at the hospital emergency department. By the time I saw her, the eye had fully recovered. I ordered a new lens.
LESSON
Although the third case injury indirectly arose from the fact that the patient was wearing a lens in the first place, her scleral lens undoubtedly saved the eye from serious injury and possible loss.
Filed in category:
Uncategorised