Read time:

1:30min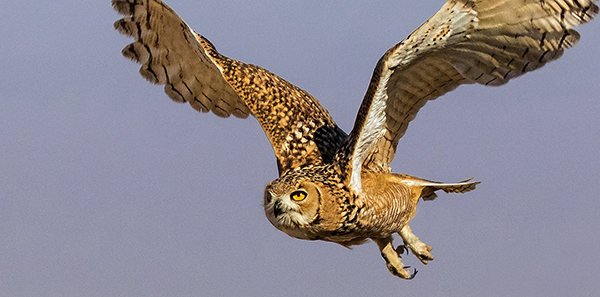 This photo of an eagle owl won the first runner-up prize in the 2016 health-care professional category of the 2016 mEYE World competition
______________________________
By Helen Carter
Journalist
Photos remind us of gift of sight
'See My World – in your own backyard' is the theme for the Macular Disease Foundation Australia mEYE World Photographic Competition 2017, which is now open until 3 October.
The competition aims to raise awareness of macular disease, the leading cause of blindness and severe vision loss in Australia.
People can submit photos that capture a glimpse of their world, in one of four categories: open, junior, macular disease community, and health-care professional.
Foundation CEO Julie Heraghty says there is synergy between the visual arts, the world of photography and the work of eye health-care professionals in saving sight. 'Photographs entered by health-care professionals each year are truly amazing and remind us all of the precious nature of our sight,' she said.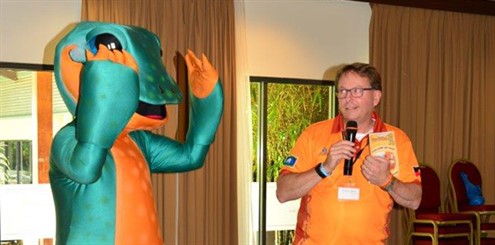 Milpa and optometrist Mitchell Anjou
Heeding Milpa's message
Milpa the Trachoma Goanna is widely recognised and most people understand the good hygiene/faces/eyes message that the character promotes, according to an independent evaluation of the Trachoma Health Promotion Programme in six remote Aboriginal communities in Central Australia.
However, people did not appear to understand that trachoma is a transmittable disease, with many believing it is attributed to bush living conditions. Although most said there was no barrier to keeping faces clean, some referred to issues such as no running water or no hot water.
New OCT more accurate
Austrian researchers have developed a new technique to allow more accurate imaging and improve diagnostic accuracy using optical coherence tomography.
MedUni Vienna researchers developed the line field OCT technique which simplifies looking into the cellular processes in the eye, enables operators to make digital corrections without the need for hardware-based adaptive lenses and allows rapid frame rate to correct aberrations over the 3-D volume of the retina.
The technique will reportedly soon be marketed in collaboration with commercial partner Carl Zeiss Meditec. 
One billion have uncorrected presbyopia
More than one billion people worldwide are vision impaired because they cannot access spectacles, a new study reports.
It estimates that 1.09 billion people aged 35 years or older are affected by near-vision impairment due to uncorrected presbyopia.
The study also estimates that 36 million people, or 0.5 per cent of the global population, are blind and reports an 18 per cent increase in overall prevalence of blindness since 1990, attributable to population growth and ageing.
One of the study authors, Dr Nina Tahhan from the Brien Holden Vision Institute, said it was pleasing to see near vision impairment due to presbyopia officially counted in global vision impairment estimates as it was the largest contributor to vision impairment globally. 
New Deakin health institute
Deakin University has established a fifth research institute, the Institute for Healthcare Transformation.
Deakin's deputy vice-chancellor (research) Peter Hodgson said the collaborative initiative would leverage Deakin's research strengths in health, building the scale and scope to support world-class health systems research, eHealth and health innovation. 
Eyes affected in Zika babies
One in five babies born to mothers infected with Zika virus has eye abnormalities, with optic nerve and retinal abnormalities being the most frequent findings, a Brazilian study shows.
The study in 112 women infected with Zika during pregnancy found 24 infants or 21.4 per cent had eye abnormalities, and of these nearly 60 per cent were born to women infected in the first trimester, one-third in the second trimester and 8.3 per cent in the third trimester.
Researchers concluded that all infants with potential maternal Zika virus exposure at any time during pregnancy should undergo eye screening examinations regardless of the presence or absence of central nervous system abnormalities. 
Ocular findings in astronauts
NASA has adopted the term space flight-associated neuro-ocular syndrome or SANS as an appropriate term to describe novel neuro-ocular responses in astronauts during and after long-duration space flight.
NASA's Space Medicine Operations Division documented the syndrome in a special communication. Clinical findings include unilateral and bilateral optic disc oedema, globe flattening, choroidal and retinal folds, hyperopic refractive error shifts, and nerve fibre layer infarcts.
Filed in category:
Uncategorised