Read time:

1:30min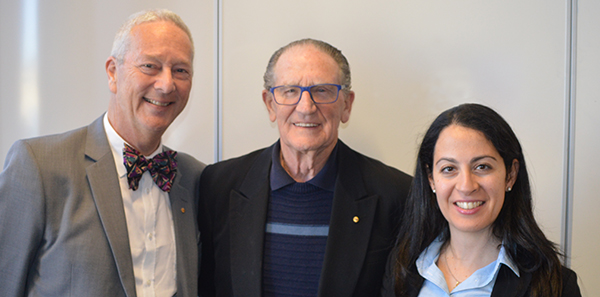 (L-R) Clinical and Experimental Optometry's new Editor Emeritus Professor Nathan Efron, Editor-in-chief Emeritus Professor Barry Collin and Deputy Editor Dr Maria Markoulli.
_____________________________

By Helen Carter
Journalist
After nearly a quarter of a century in eye care publishing, distinguished optometrist, academic and researcher, Emeritus Professor H. Barry Collin, is hanging up his pen as Editor-in-chief of Optometry Australia's journal, Clinical and Experimental Optometry.
Professor Collin, who turned 85 in January, leaves an incredible legacy, having overseen the journal's development from a national publication to one of the world's top three optometry journals.
As the journal's second longest serving editor, he carefully guided its growth in quality and quantity from each issue being about 30 pages and featuring roughly six papers when he started, to the current average issue being 100 pages, and featuring about 20 papers.
Just before his retirement as a practising optometrist and academic, Professor Collin started the part-time job as journal editor 'to keep out of mischief.' He retires nearly two and a half decades later as its Editor in Chief in March. Read his farewell editorial, 'The passing of the baton', online in the journal.
Professor Collin, who had enormous success in research, teaching, administration, clinical practice and advancing optometry curricula especially in ocular disease diagnosis and pathology in Australia, New Zealand and Hong Kong, will remain on the editorial board as an adviser.
Highlights
'My highlights re the journal have been recorded in my editorials: getting recognised as a scientific journal by PubMed, getting an impact factor and gaining such prestigious partners as the New Zealand Association of Optometrists, the Hong Kong Society of Professional Optometrists and the Singapore Optometric Association,' Professor Collin told Optometry Australia.
'In addition, I believe that Clinical and Experimental Optometry is a better and more respected journal than it was when I became editor in 1993.
'Not only do we have a very significant increase in the number of papers proffered from almost 40 countries around the world but I believe that the quality of the papers and the quality of the publication have increased during this period.
'For this last factor, I thank Sandra Shaw, the Production Editor throughout the whole of my editorship for all of her work and her assistance. Without Sandra, there would be no journal and I am grateful for her support.'
Professor Collin said the journal is in good hands, with the 'experienced and successful' new editor Emeritus Professor Nathan Efron and rising star, deputy editor Dr Maria Markoulli.
Tributes
University of Melbourne Professor Emeritus Barry Cole said: 'It was my privilege to work with Barry Collin, in my role as a chairman of the editorial board during the journal's remarkable transformation.
'Barry Collin served his profession bountifully as a teacher, a brilliant researcher and professor of optometry at the University of New South Wales. Post-retirement he took on the job Editor-in-chief of Clinical and Experimental Optometry for 24 years. That's a long period of dedication,' Professor Cole said.
'He took on a struggling journal that had too few papers submitted to it and was little known outside Australia. He transformed it.
'He has left a journal that is now in the top three international optometry journals and ranks 46th among all international vision and ophthalmic journals. Each issue is published on time, fat with high quality articles reporting research and commentary. He made the journal one that we, as a profession, can be very proud.'
Momentous change
Professor Efron also paid tribute: 'Barry Collin has overseen the development of Clinical and Experimental Optometry through a critical stage of its development – from being largely a national publication primarily focused on providing information to Australian optometrists to a highly-respected, impact factor-rated journal serving the international clinical and vision science community.
'This momentous change occurred under Barry Collin's watch as editor, and we should all be grateful for his efforts in elevating the status of the journal to the coveted position it enjoys today.
'As editor for almost a quarter of a century, he has essentially been the custodian of the academic quality of articles that were published in the journal over that period.
'His adherence to traditional academic publishing values, such as dispensing with jargon, stamping out excessive use of acronyms and abbreviations, and attention to proper English grammar and expression, have served to ensure that published papers are accessible and easy to read by both clinicians and scientists.'
Combined service from elite trio
Professor Efron said Professor Collin joined an elite group of three optometrists whose combined service as editor amounted to more than three-quarters of the 100-year history of the journal. The other two are William G. Kett who was editor for 35 years and J Lloyd Hewett, 17 years.
'I believe that these remarkable instances of sustained service have been important for the development of the journal, providing long periods of stability and ensuring survival of the journal, especially during earlier times when there were few submissions and the editor needed to be dedicated and highly creative to generate content, often from their own pen,' Professor Efron said.
In September 1993, former Optometrists Association national CEO Joe Chakman asked Barry Collin if he would take the reins and his first issue as editor was published in March 1994. He had just retired as head of the School of Optometry and Vision Science at the University of New South Wales.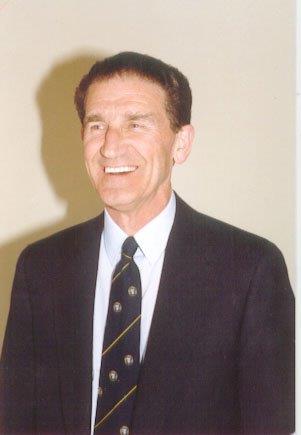 Barry Collin in the early days as editor of the journal
'When I started, we didn't have many papers and I was always calling people and asking them to write something. If we were short, I would occasionally go home and write a paper over the weekend. Research and review papers were almost entirely from academics in Australian schools.
'Our current high rejection rate of submitted papers is because we set a high standard and papers have to be of potential interest to our readers,' he said.
Professor Collin said the biggest change had been the internet, which had streamlined the process, enabling faster distribution and return of papers.
'It was a long, slow process,' he said. 'Now we have 15 associate editors who assist with this review process and who are very dedicated.'
An editorial board and an executive committee were appointed in 2000, with Professor Barry Cole as chairman. 'Together we tried to raise the standard and encourage people to write more and better papers, particularly the top scientists and clinicians,' Professor Collin said.
'We had to fight to get the journal into PubMed which gave the journal some recognition and we later achieved an Impact Factor, which also helped encourage submissions.
'The journal is well regarded among journals in the fields of optometry and ophthalmology but we are not at the top because in contrast to most other journals, we have two audiences: optometrists and vision scientists. We have a mix of research and reviews which attract citations, and clinical case reports which do not attract citations but are of interest to practitioners.'
Ground-breaking research
Professor Collin's own ground-breaking research was the back-drop to him becoming journal editor.
His achievements 'broke new ground for optometric scientific endeavour' as he was the first to establish that lymphatic vessels can grow into the cornea after corneal injury, helping to explain corneal graft rejection.
He established many aspects of the structure and mode of growth of lymphatic vessels into the cornea, and found preservatives in eye drops can damage the corneal endothelium and retard epithelial healing.
His monumental role in corneal research was recorded in medical textbooks and Barry Cole wrote that this was important to ophthalmologists and significant for optometrists because it showed optometry could play in the big league of science and medicine. Before this there was little research in optometry in Australia.
Barry Collin's research afforded him the first PhD awarded to a Victorian optometrist, the International Optical League Medal recognising outstanding contributions to the advancement of the science and profession of optometry, and in 1977 the Australian Optometrical Association, now Optometry Australia, created a research medal to recognise research excellence named in his honour, the H Barry Collin Research Medal.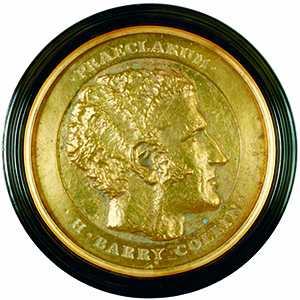 The H Barry Collin Research Medal
He presented more than 400 lectures to conferences around the world, was one of the first optometrists to do basic and clinical research in biology, was the first and only optometrist in the world to be awarded Fellowship of the Royal College of Pathologists (FRCPath) in London and was invited by Nobel Prize winner Lord Howard Florey, who transformed penicillin from an observation into a lifesaver, to work in his Oxford laboratories.
Optometry and Vision Science described him as 'an educator, scientist, visionary and leader in the profession who made important contributions to the understanding of ophthalmic pathology. A visionary in the growth and establishment of modern day Australian optometry, he had an enormous impact on raising the level of optometric education and expanding the scope of optometric practice,' playing a major role in redesigning curricula to include diagnosis and management of ocular disease.
_____________________________
Filed in category:
Uncategorised