Read time:

1:30min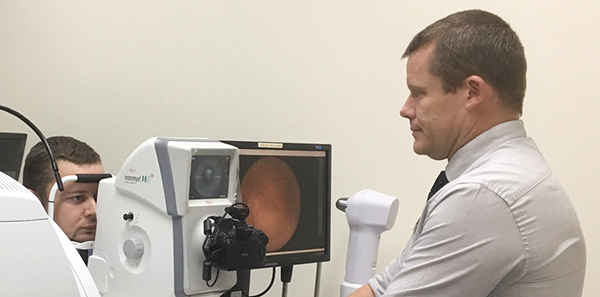 CFEH chief staff optometrist Michael Yapp at the Sutherland Hospital clinic   Photo: CFEH
______________________________
By Helen Carter
Journalist
A new clinic staffed by optometrists has opened at Sutherland Hospital in Sydney, offering free services to patients referred from the community.
The Centre for Eye Health clinic will focus on diabetes patients including those with diabetic retinopathy and will soon also offer services to patients within the hospital. In time it will provide rehabilitation services and low vision care through Guide Dogs NSW/ACT.
The clinic began seeing patients in May, ahead of an official opening scheduled for August.
'The clinic is currently taking referrals from optometrists and GPs in the community but we expect that in a few weeks, we will start seeing inpatients and outpatients from within the hospital,' the centre's executive officer David Murray said.
'Currently, patients are being managed the same way as patients at the Centre for Eye Health.'
The clinic provides assessment of patients referred within the hospital or from GPs or optometrists from outside the hospital, with a focus on diabetic retinopathy.
CFEH rooms are located within the hospital. Guide Dogs NSW/ACT provided a generous donation to fund ophthalmic equipment at the clinic, which is shared by the clinic and the hospital's ophthalmology department.
The clinic comprises three rooms including a consulting room, a room to house instruments and a shared space with other clinicians.
It provides services as part of an ophthalmologist-led collaborative care clinic supported by ophthalmologists from the South East Sydney Local Health District. In September 2016, the Centre for Eye Health and Guide Dogs NSW/ACT signed an addendum to the Memorandum of Understanding with the South Eastern Sydney Local health District to initiate the clinic.
Unique features
CFEH director Professor Michael Kalloniatis said unique features of the Sutherland clinic included that it was a diagnostic clinic set up next to the hospital's ophthalmology services.
'Its focus on diabetes means we can also take referrals from endocrinologists in the hospital,' Professor Kalloniatis said. A survey of the hospital's endocrinologists found that 80 per cent of their diabetic patients had not had an eye examination, indicating a need for the clinic.
'When fully operational, we will use novel diagnostic services to triage patients, if a medical emergency to ophthalmologists in the hospital, and if not we assess them and refer them to be managed by us or their community optometrist,' he said.
'It might be a diabetic patient referred from a GP and who hasn't seen an optometrist. We don't target patients under the care of an optometrist or ophthalmologist.'
Integrated care
Professor Kalloniatis said the integrated care concept was vital to the operation of the clinic as about 20 per cent of patients would require input from ophthalmologists.
'Integrated care is important because our triage system sees patients and determines if they need medical or surgical intervention, and whether we can manage as optometrists or they need to be referred to a GP or to specialists in the same premises next door to us,' he said.
'Unusual cases might also require input from ophthalmology consultants to help with diagnosis.'
Mr Murray said the centre had appointed an integrated care co-ordinator, working part-time at both the centre and the clinic, to liaise with other services to ensure integration of services for the clinic's patients.
Rehabilitation and low vision care
To complete the loop, the clinic will in time also offer visual rehabilitation including orientation and mobility assessment and training, and low vision care.
'Patients with vision loss need this care as well as social welfare help,' Professor Kalloniatis said. 'They will be assessed by experts from Guide Dogs NSW/ACT and we hope to set this service up in 12 to 18 months.'
While the clinic will focus on diabetes, it will also see patients with other eye diseases and conditions.
In due course the clinic will be open Monday to Friday but is currently open on Wednesdays and Fridays until workload increases. It is being operated by CFEH chief staff optometrist Michael Yapp, and senior staff optometrists Gonzalo Jacome and Pauline Xu.
In its first two weeks, the clinic saw 35 patients from the community.
Data collection will enable an overview of patient demographics, management outcomes and other factors to allow evaluation of the clinic and report on key outcomes relating to health-care delivery.
Mr Murray said Sutherland Shire was an area with an increasing ageing population and increasing diabetes diagnoses. It was also a region with a growing population and experiencing a housing boom.
CFEH has been operating since 2009 and has assessed more than 40,000 patients. The clinic was established to maximise access to eye assessments, and through early detection reduce the incidence of preventable blindness.
'Since opening our doors eight years ago we have been able to diagnose thousands of patients with eye disease who otherwise might not have received this service,' Professor Kalloniatis said. 'We have also initiated a glaucoma management clinic, in a collaborative care model with local health district ophthalmologists.'
Filed in category:
Uncategorised