Read time:

1:30min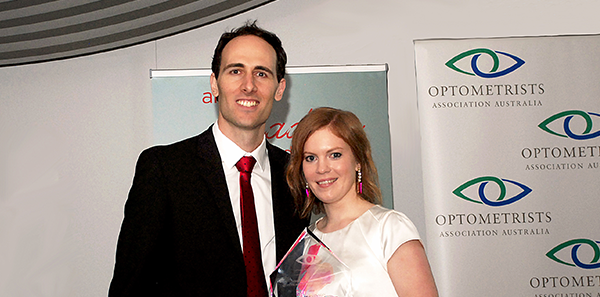 ______________________________
Kate Johnson and Emily Woodman are Queensland's Optometrists of the Year.
Miss Woodman won the Young Optometrist of the Year Award and Ms Johnson took out the Hon Bill Hayden AC Queensland Optometrist of the Year Award at Optometry's Night of Nights in Brisbane on 9 November.
The Hayden award is presented to an optometrist for outstanding contribution to the profession. It is peer recognition of members of the association who have worked tirelessly to increase the standing of the profession and enhance the achievements of optometry to serve the community.
Ms Johnson is a national director of Optometrists Association. She received the award for her distinguished record of service to the association and the profession, and for her distinguished records in clinical practice and its continuing evolution, in optometric education and research, of service to the community, in contribution to public health and welfare, and in enhancing relationships with other professions.
To formally recognise the efforts of young achievers, for the first time the division awarded an outstanding young optometrist who had graduated within the past five years.
Ms Woodman received the award for her distinguished record of service to the association and the profession, for her distinguished record of service to the community including contribution to public education, and for her distinguished record of enhancing relationships with other health professions.
The awards and event were organised by Queensland and Northern Territory Division for association members to celebrate the optometry profession and its achievements over the past year.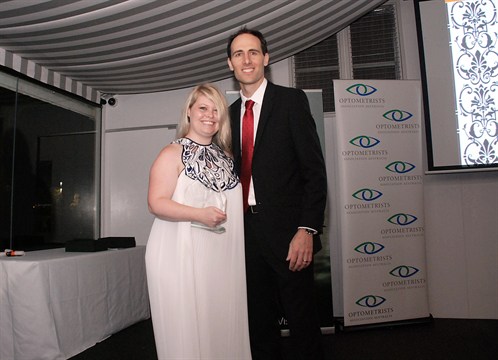 Emily Woodman and David Foresto
The theme, VISIONaries past, present and future, was reflected in the presentation of the awards, recognition of Queensland University of Technology optometry graduates, and the five, 10 and 20 year reunions of former QUT graduates.
Guest speaker and MC was media personality Brooke Lowther and division president David Foresto presented the awards.
He presented certificates to 38 of QUT's new 52 graduates who attended. They are the first students to graduate with a Bachelor of Vision Sciences and Master of Optometry at QUT after five years of study.
Former QUT students attending reunions received commemorative medallions.
From the 2008 graduation class, Rachel Abraham, Kate Melville, Kady Mitchell, Joceyln Wills and Roslyn Vincent attended the five year reunion.
The 10 year reunion of graduates from 2003 was attended by Kate Johnson, Roger Martin, Penny Stancombe and Khanh-Tien Truong.
The 20 year reunion of the 1993 graduating class was attended by David Bradley, Robyn Choi, Helene Holmes, Elizabeth McDougall, Brendon Pearce, Melinda Toomey, Kellie Vanderburg, Matthew Walcott, Julie Weir and Kristan Wick.
The 106 guests enjoyed canapés, drinks, dancing and entertainment.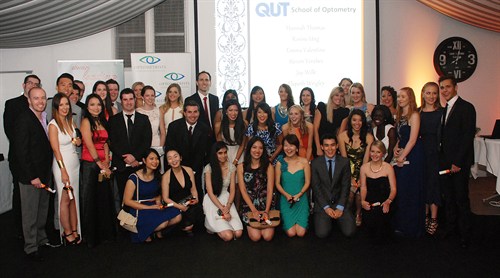 QUT's new graduates
Filed in category:
Uncategorised