Read time:

1:30min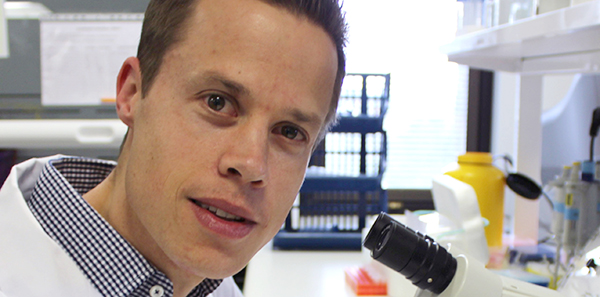 Dr Peter van Wijngaarden   Photo: CERA
______________________________
By Helen Carter
Journalist
Melbourne researchers are collaborating to develop a laboratory model of multiple sclerosis that is based on damage to the optic nerve.
The visual pathway in the brain is often affected in multiple sclerosis (MS) and researchers hope that the development of a laboratory model of optic neuritis will lead to better outcomes following MS relapses, and improve MS treatments.
Ophthalmologist, principal investigator and deputy director of the Centre for Eye Research Australia, Dr Peter van Wijngaarden will collaborate with optometrist, Associate Professor Bang Bui from the University of Melbourne's Department of Optometry and Vision Sciences, and group leader in MS Research at the Australian Regenerative Medicine Institute, Monash University, Dr Tobias Merson.
Dr van Wijngaarden received $18,000 incubator funding from MS Research Australia for the project.
The work is an extension of research he began during his postdoctoral fellowship at the University of Cambridge where he studied the regeneration of the central nervous system following injury to myelin, the insulating layer that supports neurons in the brain and spinal cord.
'Many people with MS have optic neuritis, inflammation affecting myelin of the optic nerve, and yet there are no good laboratory models of this condition,' Dr van Wijngaarden said.
'Researchers and clinicians have ready access to tools that allow them to non-invasively study the structure and function of the cells that send their projections to the brain via the optic nerve. We intend to apply this technology to a laboratory model of injury to myelin in the optic nerve to study the consequences of this injury and the time-course of repair.
'An exciting aspect of the work is that it brings together experts in the field with a shared focus. We are very grateful for the support provided by MS Research Australia, which recognises that this is much needed research,' he said.
Dr van Wijngaarden said that a rich population of cells with stem cell-like properties migrates to areas of injury in MS and differentiate into new myelin-forming cells known as oligodendrocytes.
'This repair process occurs efficiently in the early phases of the disease but declines over time, leading to the loss of neurons and irreversible neurological deficits,' he said. 'We know that enough repair cells migrate to the injury site but they often fail to respond appropriately to the injury.'
By developing a model of MS-like injury in the optic nerve, the group will investigate the natural repair mechanism with a view to informing treatments that enhance repair.
They will also learn more about the contribution of myelin loss, as opposed to inflammation, to the neuronal injury that occurs in MS. This may lead to the identification of ways of protecting nerves during periods of injury in the disease.
'While this is early stage research, we have our sights firmly fixed on improving outcomes for people with MS,' he said.
Filed in category:
Uncategorised