Read time:

1:30min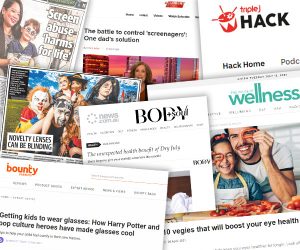 Through proactive media engagement, Optometry Australia generated a record 650 pieces of editorial coverage in a variety of media outlets nationally in FY2020-2021.
This coverage highlights the increasingly positive relationship that Optometry Australia is building with Australian journalists and media outlets.
Of the 650 stories generated last financial year, 84% were published in consumer-facing media channels.
National Marketing and Engagement Manager, Trinity Scarf said, 'By working closely with the media we can deliver key messages about the importance of eye health and the need to see an optometrist for regular eye examinations. This editorial underpins and strengthens any advertising campaign activities that we may have underway and is seen as critical to extending our eye health messaging'.
Trinity said that the organisation was delighted to see our media coverage increasing year-on-year and over the FY2018-2021 strategic period, Optometry Australia generated 1,400 pieces of editorial coverage across a variety of media outlets nationally.
Of this coverage, 80% (1,110 pieces) represented consumer stories, driven by our successful Good vision for life campaign and comprised of online (52%), radio (33%), television and print. The remaining 20% of editorial was published within in-sector media outlets.
Driving media coverage
Trinity said that an effective tactic Optometry Australia employed to help drive this coverage included commissioning research to survey Australians about their approach to eye health and their attitudes and habits with regard to their eyes. The resulting Good vision for life Vision Index report covered topics such as glasses, contact lenses, eye conditions, disease, nutrition, workplace, driving, sport and digital behaviour.
'Covering this breadth of topics enabled us to "slice and dice" the data and release tailored information to media over an extended period, prolonging the value of the research and enabling us to tell a multitude of stories about Australians and their eye health over time.
'While we released the Vision Index in January 2020, this research continues to generate media interest with two pieces of coverage published just last week on 7 and 8 July', Trinity added.
Media savvy Optometry Australia members also embraced the research to use in their own media efforts, with Bupa Optical, Eyecare Plus, WA Opticians, Augie Eyewear and EyeQ to name just a few examples of how practices created their own publicity opportunities.
'It is always a wonderful bonus to see our members use the tools we have created – such as the 2020 Vision Index – to generate media coverage off their own bat,' Trinity said. 'The more stories we can generate in the media about optometry, optometrists and eye health, only serves to help the sector as a whole.'
The Good vision for life is also regularly updated with fresh, eye health-related news and stories (found in the stories section), which we encourage you to share via your own platforms and channels, such as your website, patient newsletters and social media.
Filed in category:
Marketing
,
National & State initiatives
,
Sector news
,
Workplace
Tagged as:
Marketing
,
Member services
,
Milestones