Read time:

1:30min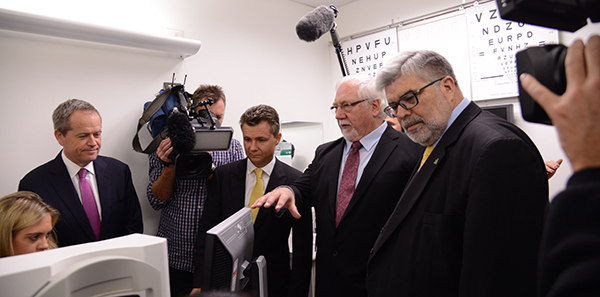 By Rhiannon Riches
Federal Opposition leader Bill Shorten called for more investment in science and research funding when he fronted a media conference at the Brien Holden Vision Institute on 30 April.
Mr Shorten, Senator Kim Carr and Labor Member for Kingsford Smith Matthew Thistlethwaite toured the Brien Holden Vision Institute and Vision CRC, which are considered exemplars of the future of Australian health care, research and jobs.
Budget cuts have resulted in the institute having to reduce the number of its employees.
'Recent cuts have led to us having to lay off 45 dedicated, talented professionals in blindness prevention,' CEO Professor Brien Holden said.
He said that government support of science was vital to Australia's economic future.
'The Vision CRC program enabled our collaborations with global researchers and industry to produce what is now the most popular contact lens material used globally.
'The benefits of that success have been enormous: $1,500 million invested in research, around $300 million in royalties—reinvested in further breakthrough research, education of more than 180 PhD students, delivery of eye care to over three million people in need and training to over 130,000 eye-care personnel globally,' Professor Holden said.
He said Vision CRC's latest technology, Extended Depth of Focus contact lenses, created by Dr Ravi Bakaraju at the institute, has just received Food and Drug Administration approval in the United States.
'It will be the first product brought to market by our own spin-off company and a direct result of the investment from the CRC system.'
Mr Shorten called on the government to recognise that the path to future jobs depended on proper funding of science and research.
Mr Carr is Senior Shadow Spokesperson on Higher Education and Research. Mr Thistlethwaite is Parliamentary Secretary for Foreign Affairs and Immigration.
Filed in category:
Uncategorised