Read time:

1:30min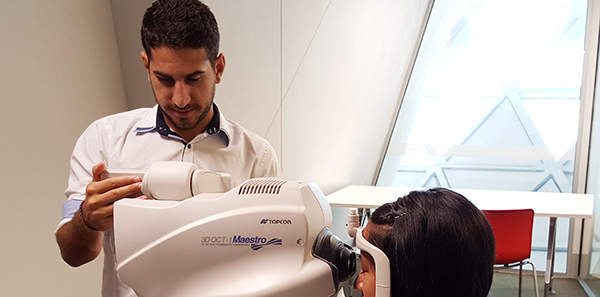 Optometrist Jose Estevez
______________________________
By Helen Carter
Journalist
A landmark study, Australia's most comprehensive of Indigenous people and diabetes, will check the eyes of 4,000 Aboriginal people and follow them for up to two decades.
The optometrist employed by the Aboriginal Diabetes Study, Jose Estevez, has appealed to South Australian optometrists to encourage Indigenous patients with and without diabetes to take part in the study.
'The study may help health practitioners understand how to help Aboriginal people and how to look after them better. For Aboriginal people in South Australia, benefits may include fewer eye, feet, kidney and heart problems from diabetes, or better ways to treat these problems,' he said.
Mr Estevez graduated from Flinders University in December and now works as an optometrist and research fellow at the South Australian Health and Medical Research Institute (SAHMRI) and Flinders Medical Centre in Adelaide.
The study, funded mainly by a National Health and Medical Research Council grant, will examine 4,000 Aboriginal people throughout South Australia who are aged 15 years or older, including 2,000 with diabetes and 2,000 without.
'Nothing like this has been done before and a lot of information and understanding is missing about diabetes in Aboriginal people,' Mr Estevez told Australian Optometry.
'Patients will be evaluated for cardiac, renal, eye and feet complications of diabetes. 'Ultimately, a complete health assessment will be done including blood tests to identify any genetic markers related to diabetes.
'The examination will be repeated every five years for about 20 years to follow up if patients have developed any new complications related to diabetes, or any treatment they may have received.'
Complications
Mr Estevez said the study aimed to understand the reasons for disparities in diabetes and its complications in Aboriginal communities, to better predict the development of complications and to translate research into practice to optimise existing therapies and enable the development of new therapies to better treat patients.
'We would like to know why some Aboriginal people end up with diabetes and others don't, and why some get severe diabetes complications within a family and others don't.'
Mr Estevez said Australia's Indigenous community had one of the highest rates of type 2 diabetes and its complications in the world.
'We are seeing Indigenous people develop type 2 diabetes at much younger ages than previously. Of great concern is the number of children, adolescents and young adults with rising rates of diabetes,' he said.
'Diabetes drives early renal, retinal and cardiovascular complications of which the severity of complications among Aboriginal and Torres Strait Islanders is also alarming. The reasons for these complications need exploring, along with better treatments and approaches to prevention to ultimately reduce premature mortality as a result of diabetes.'
Mr Estevez said environmental and genetic factors caused higher rates of diabetes and complications, along with access to health services.
'It's important to improve diabetes management by ensuring that communities have access to diabetes support, education and services,' he said.
Researchers will take blood, saliva and urine samples to look for markers that may predispose people to higher risk. Mr Estevez will conduct a 40-minute comprehensive eye examination including tests for visual acuity, intraocular pressure, refraction and a retinal examination including optical coherence tomography.
International Diabetes Federation honorary president Professor Paul Zimmet said one in four Indigenous Australians had diabetes and a main goal of the landmark study was to reduce diabetes in this community.
Principal investigator, Indigenous GP Professor Alex Brown, said the study aimed to help health workers understand how to better help Aboriginal people and improve health outcomes.
'By the time I was 18 I had been to more funerals than any kid should have to. I've spent the past 20 years counting deaths and families we've lost to diabetes and I'm sick to death of it,' Professor Brown said.
Study ambassador, Indigenous actor Derik Lynch, grew up in a remote area. He said he also had seen too many people struggle with diabetes and die.
Testing will begin mid-February in Adelaide at the SAHMRI on North Terrace. Other communities will be visited later this year including Murray Bridge, Port Augusta, Port Lincoln and Ceduna. Remote communities will be visited in 2017 and 2018.
Optometrists with Indigenous patients wanting to participate can direct them to the study or email jose.estevez@sahmri.com or call Dayna on 08 8128 4244 for information.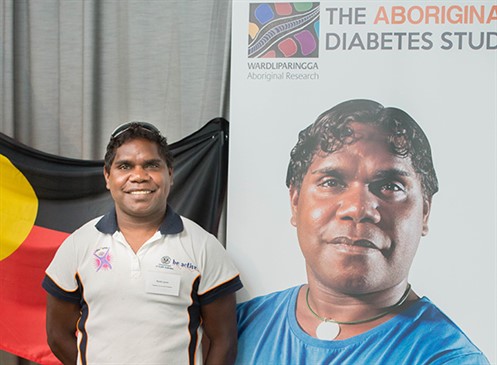 Indigenous actor Derik Lynch
Filed in category:
Uncategorised