Read time:

1:30min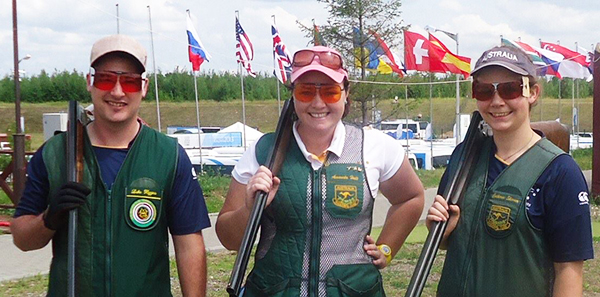 Luke Higgins (L) representing Australia in the 2013 Men's Trap in Kazan, Russia
______________________________
By Ashleigh McMillan
Journalist
Luke Higgins has found balance between his twin passions of optometry and clay pigeon shooting.
He joined Optometry South Australia as a board member in December 2015, with a desire as a young optometrist to shape the future of the profession. Luke has already made his mark elsewhere, representing Australia in the Men's Trap at the 2013 Summer Universiade in Kazan, Russia.
'It's an excellent sport to be part of, safe but challenging and it has a lot of optics involved, so it's two passions meeting there. It's also a great way to socialise and I've got a lot of friends in the sport,' he said.
Luke began shooting at 12 with his father on the family farm at Mount Compass, 50 kilometres south of Adelaide. He says that co-ordinating his optometry career and frequent high-level shooting competitions has taken discipline and dedication.
'You couldn't juggle all of them and do them well without passion. Organisation and planning is the key and I make sure I have a good diary, write everything down and make time for all of those activities.'
Recent changes in the eye-care sector motivated him to take on a leadership role within his home state.
'Optometry is going through such a huge change at the moment, with Medicare and the release of the capping on the schedule fees. So while it's going through this change and I'm new to the profession, I wanted to be part of that change and help direct it,' he said.
Luke says his first project as a board member is to start a Young Optometrists Hub in South Australia, to provide support and socialisation for practitioners in their first five years of practice.
"It's really going to be networking-based, with a strong socialising aspect and a focus on dealing with any issues that arise in that first five years, offering advice and CPD points as well.'
Luke's emphasis on guiding the newer members of the profession is reflected in his involvement as a tutor and low vision topic co-ordinator at Flinders University. He is also involved with its clinic, Flinders Vision.
Once he had finished his degree at Flinders University in 2014, having been one of the first optometry graduates from the university, Luke initially headed into private practice.
He also worked part-time with the Royal Society for the Blind before being offered the position at Flinders University. He continues his work with the society two days a week as a low vision optometrist.
'It's fantastic passing on clinical skills and tutoring, it keeps you incredibly sharp,' he said. 'You also get to see the latest and greatest of techniques, which is important for my personal growth within optometry, but it's just wonderful to be part of a really enthusiastic group of optometrists and students.'
Luke was inspired by the rural optometrists he worked with during clinical placements at university, including those from Eyre Eye Centre in Port Lincoln, Bill Robertson Optometrists in Alice Springs, and OPSM at Karratha in the Pilbara region of Western Australia. 
'They showed me the breadth of optometry is enormous. You a do a whole lot of different things and that really was a fantastic experience and inspired me to keep pushing and trying different parts of optometry.'
Luke wants to continue to develop in his interests in low vision, sports vision and contact lens practice, and is looking forward to playing a bigger role in teaching future optometrists, while continuing to follow his love of clay pigeon shooting.
Filed in category:
Uncategorised