Read time:

1:30min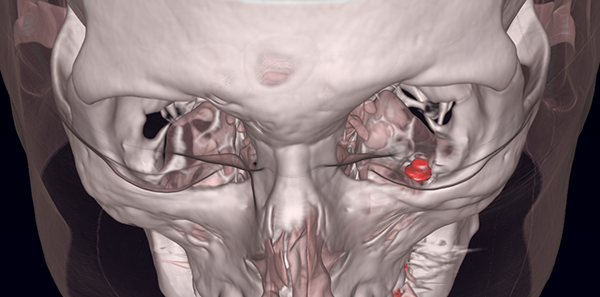 Magnets implanted behind the eye control nystagmus  Image: Moorfields Eye Hospital
By Helen Carter
Journalist
Magnets fix 'dancing' eyes
British researchers have implanted magnets behind a patient's eyes to treat the nystagmus he developed due to Hodgkin's lymphoma.
It is the first description of a successful use of an implant that controls eye movement.
Moorfields Eye Hospital ophthalmologists, and research teams from the University of Oxford and University College London developed the prosthesis involving one magnet implanted on the bone at the bottom of the eye socket interacting with a smaller magnet attached to one of the eye muscles which controls its movement. 
Dressmakers see sew easily
Dressmakers have enhanced stereoscopic vision compared with non-dressmakers, a study shows.
Researchers analysed the 3-D vision of 13 professional hand-sewing dressmakers and 21 non-dressmakers and found dressmakers could see tiny 3-D structures which were twice as small as those seen by non-dressmakers.
Dressmakers demonstrated better stereoscopic acuity than non-dressmakers for absolute and relative disparities, but there was no difference in vergence abilities. One explanation could be that experience with fine manual tasks might influence the precision of the stereoscopic system. 
CERA research award
CERA's Clinical Trials Research Team has received a Clinical Research Site Award for studies where the Principal Investigator was senior research fellow and ophthalmologist Dr Sanj Wickremasinghe.
The award was from INC Research, a Contract Research Organisation that offers end-to-end solutions for professional clinical trials around the world. It recognises the value of clinical research sites as partners in the clinical research process.
INC Research cited the team's exceptional compliance with protocol and regulatory requirements, and strong focus on patient safety and well-being. 
Diabetes prevention initiative
Vision 2020 Australia has called on the Australian Government to fund a National Diabetes Blindness Prevention Initiative to assist in improving co-ordination of service delivery and reduce the number of people who become blind.
Vision 2020 Australia, Diabetes Australia and the Centre for Eye Research Australia are proposing the initiative which will remind people with diabetes to have regular eye checks, ensure more effective information sharing and establish an evidence base on eye examination uptake.
The Vision 2020 Australia website includes the personal experience of a writer who at the age of 37 years was told his diabetic retinopathy was advanced. 
Prem babies
Children born under 27 weeks gestation have reduced retinal function due to significantly lower rod and cone function than children born at term, a Swedish study shows.
Researchers compared retinal function via full-field electroretinographic recordings in 87 six-year-old children who were born extremely prematurely with 66 six-year-olds born at full term.
They said rod and cone disorders resulted in night vision problems, loss of the visual field, reduced colour vision and photophobia.
Filed in category:
Uncategorised