Read time:

1:30min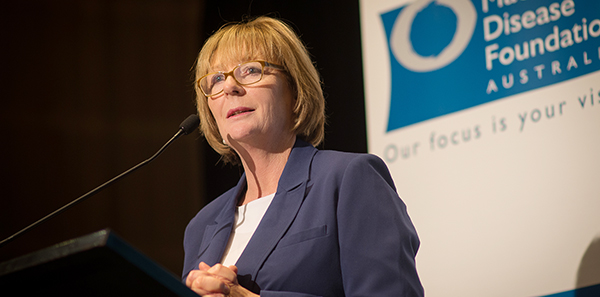 MD Foundation CEO Julie Heraghty
__________________________
By Helen Carter
Macular Disease Foundation Australia is concerned that its education program that benefits thousands is at risk because no further Australian Government funding has been pledged for the program.
The program creates awareness in the community about macular diseases including age-related macular degeneration, and educates people about symptoms, prevention and treatment.
Apart from education sessions and forums, it provides resources for the public, patients and health professionals.
In 2014-2015 the foundation ran 52 education programs nationally for more than 2,300 people.
Foundation CEO Julie Heraghty said that well before the conclusion of each grant period, organisations funded by government were contacted and advised that applications were open for the next round.
'The lack of information about what will happen on 30 June 2015 at the end of our existing grant is appalling,' she said.
'It is not a large amount of money—an average of $137,000 a year since 2005—for the biggest eye disease in the country.
'It is the government's responsibility to approve expenditure for grants but the Health Department is telling us it has no direction about it,' Ms Heraghty said.
'Grant application invitations are usually put out in advance because a good business model wants sustainability for investments which have good outcomes and impacts. Our outcomes are amazing as feedback indicates that clients are highly satisfied and greatly value the face to face education sessions.
'It is of great concern. We are really worried we could lose the grant.
'I am recommending that rather than risk losing the program, the government approve a one-year grant to enable the program to continue until it can put in place the process for re-application and thus not disadvantage organisations.'
Ms Heraghty said continuity of funding was vital to prevent losing staff, training, corporate knowledge and relationships in the community.
'It is the government's responsibility to have good processes in place which enhance and don't jeopardise such programs,' she said.
The program ranges from events, media campaigns and speakers who attend service clubs to create awareness of AMD in the public, to education sessions incorporating low vision providers for patients, those at risk, family and carers.
It aims to reduce incidence by preventing AMD through diet and treatment, and the disease's impact through education about early detection and treatment to slow progression.
Ms Heraghty said 1.15 million Australians had evidence of AMD and in the absence of prevention and treatment measures, this would increase as the population aged. 'Our job is to educate on prevention and early detection to reduce the prevalence of this disease,' she said.
She said the foundation had never received Australian Government funding for its helpline, often the first point of contact, despite applying repeatedly.
'Elderly people sitting at home can pick up the phone and receive information, guidance and support and 95 per cent of users rate the hotline as good or excellent,' she said.
The foundation receives funds from donations, bequests, corporations, fundraising and philanthropic avenues.
Grants
The Macular Disease Foundation and Blackmores are offering two research grants totalling $1.3 million in a bid to reduce the incidence and impact of macular degeneration.
The Macular Disease Foundation Australia Research Grant, valued up to $700,000 over three years, is open to a range of research areas such as bio-medical, low vision and nutrition, or related to practices and protocols in treatment.
New this year is the Blackmores Macular Disease Foundation Australia Research Grant, valued up to $600,000 over three years. This grant will focus on the nutrition and lifestyle aspects of macular degeneration.
Applications close 1 June 2015. Visit www.mdfoundation.com.au for details.
Filed in category:
Uncategorised