Read time:

1:30min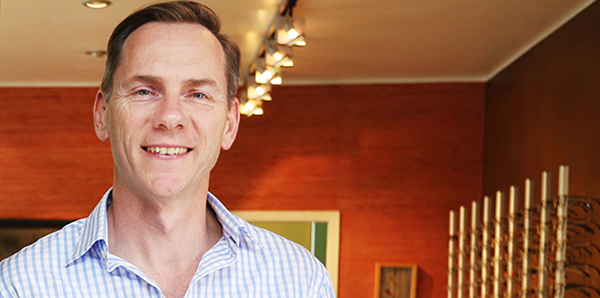 Richard Banks
______________________________
By Rhiannon Riches
Assistant Editor
After nearly 30 years as a member, Richard Banks is adamant that maintaining membership of Optometry NSW/ACT is a vital part of practising optometry. 'It's a no-brainer. It's good value for money,' he said.
As a new graduate, Richard joined the Western Australia Division of the Australian Optometrical Association in 1988, when the nation was celebrating its bicentenary and a new Parliament House in Canberra was officially opened.
'After graduation from the University of New South Wales, I wanted a change and there were good job offers in Perth. There were fewer job opportunities in Sydney and greater competition; there were better options interstate,' he said.
His first employer paid his membership fee as part of his salary package. Three years later he moved to London, then returned to Sydney and registered with the NSW Division of the association.
With a decade of clinical experience under his belt, Richard opened his own practice in Woollahra in 1999: Richard Banks Optometrist.
Peace of mind
'Membership is peace of mind; it's there if you need advice. I once had an employment issue and I was able to call Optometry NSW/ACT for advice on how to handle it. Fortunately, I haven't had cause to use my membership in terms of professional indemnity insurance,' he said.
'If I have a question on any issue, and they could be many and various, then Optometry NSW/ACT is a good first call. If they can't help me directly, they'll be able to direct me to someone who can.
'Membership is more than just professional indemnity insurance. While insurance for malpractice can be purchased outside the association, I have peace of mind knowing that whoever the insurer is for Optometry Australia, they have a track record. The risk or problem of going elsewhere for insurance is you don't know their track record, so I prefer to stick with the association.
'But there is more to membership than that. It's the advocacy on Medicare issues, the political organisation. Optometry Australia is the prime body representing us, the optometrists.'
From the time he opened his own practice in 1999, Richard had bulk-billed his patients but that changed when the Australian Government removed the cap on fees that can be charged under Medicare, enabling optometrists to set their own fees from 1 January 2015. Once again, membership of Optometry Australia served him well.
'I used to bulk-bill but I changed to private billing in 2015. I used membership services like the Fee Calculator tool as a guide for setting my fees,' he said.
Richard recently completed the UNSW therapeutics course. 'It was a demanding course and one to consider seriously before doing it, but overall a positive step.
'I did the course because I realised that I wanted to continue to practise and don't envisage an early retirement. As more of the profession becomes therapeutically qualified, patients expect their optometrist to be able to write scripts.'
The NSW Optometry Bill was passed in July 2002, granting therapeutics access after a 17-year fight. The first optometrists were granted authority to prescribe therapeutic drugs in the state in November 2007.
Filed in category:
Uncategorised