Read time:

1:30min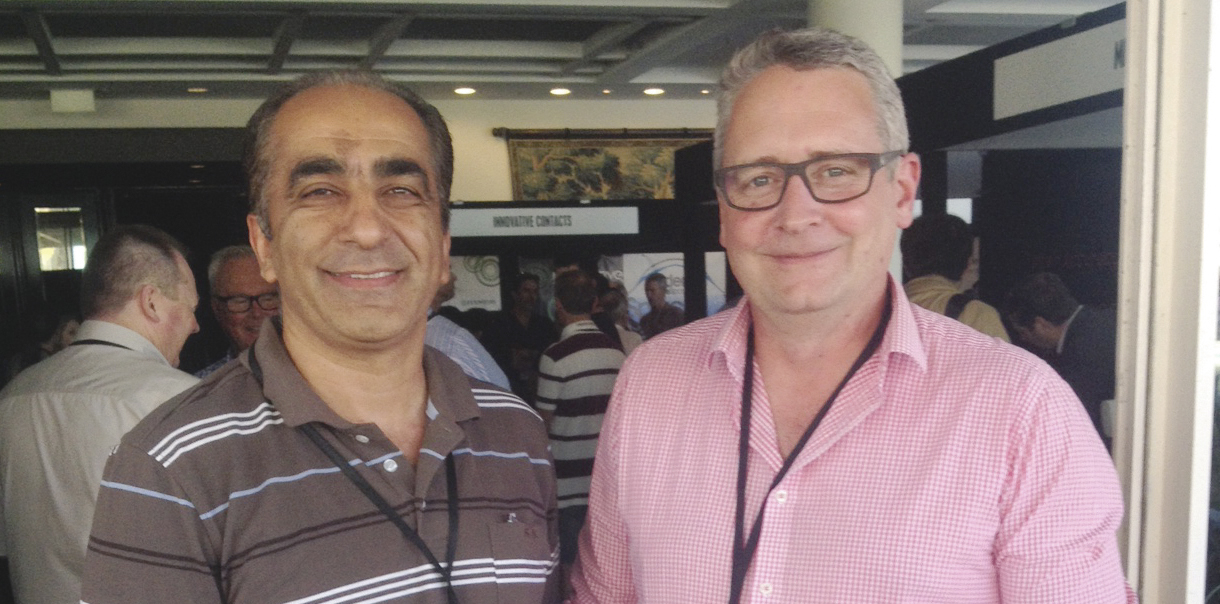 Michael Jones (R) and Ramin Bayani
______________________________
By Helen Carter
Wollongong optometrist Ramin Bayani credits fellow practitioner Michael Jones with offering some of the best advice Mr Bayani has received, leading to more patients and independence and less commercial pressure.
Both practitioners joined Optometry Australia's National Mentoring Program 16 months ago and since then Mr Jones, from Coffs Harbour, has been providing invaluable phone and email advice to Mr Bayani.
The pair, who practise orthokeratology, met for the first time at the Congress of the Orthokeratology Society of Oceania on the Gold Coast in October last year.
'Both of us remarked how positive the whole mentoring process has been for us,' Mr Jones, who is an Optometry Australia national board director, said.
Optometry Australia national policy manager Skye Cappuccio matched the pair after the program launched in October 2013. Mr Bayani's lease was expiring and with encouragement from Mr Jones, he moved from a shopping centre onto a main street.
'It was nice to meet Michael and his wife at the conference. I thanked him again for the best piece of advice that anyone had given me about moving my practice out of the shopping centre and into the high street,' Mr Bayani said.
'This turned out to be an excellent move. I had been a bit nervous but Michael said "Build it and they will come. If you do a nice fit-out, most of your patients will follow you."
'As he predicted, not only have most of them followed but also I am picking up new patients who are going to banks and other services in the street. I am now free of all commercial pressures and have a lot more business and professional independence.
'That advice and recommending me to join ProVision helped me to have a smooth transition and put my business on a solid footing,' Mr Bayani said. 'Now that I am free of commercial pressures, I have the opportunity to specialise in clinical areas. I recently had an ortho-K patient who was a bit challenging so I emailed Michael and as usual he replied immediately with great advice.
'I am grateful to Michael and even though we may not be in regular contact, I know that whenever I need him he is there to help. I hope to make it up to him and to the profession one day, and thank Optometry Australia for organising the mentoring program. I encourage other optometrists to join this great scheme.'
The program provides opportunities for members to support other members to develop professionally. It draws together pairs of practitioners with similar practice interests but differing experience. The more extensive experience of one allows them to guide development of the other.
Mentoring relationships can focus on the development of a special interest such as low vision, a particular career pathway such as undertaking rural practice, or development and growth of an optometric practice.
'We have had mentors and mentees from all states and territories, rural and remote areas and cities. Comment has been positive,' Ms Cappuccio said.
'People are matched on the basis of what they indicate they want or can offer, such as orthokeratology, building a new practice or developing a different aspect of their career. Most offered to mentor on a range of issues and many mentees were interested in exploring more than one aspect of their practice.'
There are no particular criteria for participating and the program is open to all members who wish to share their expertise or learn from the knowledge and skills of others.
'Those wanting to be involved are asked to complete a form sharing their experience, interests and expectations of the program, so we can ensure that partnerships are well matched,' she said.
'Applicants for the 2015 round of the program are being matched now, but we encourage members interested in being mentored to complete and submit an application at any time,' Ms Cappuccio said. 'Through the program, optometrists have shown themselves to be very willing to give back to the profession, and we have additional people willing to be mentors available.'
For information email policy@optometry.org.au or visit www.optometry.org.au.
Filed in category:
Uncategorised