Read time:

1:30min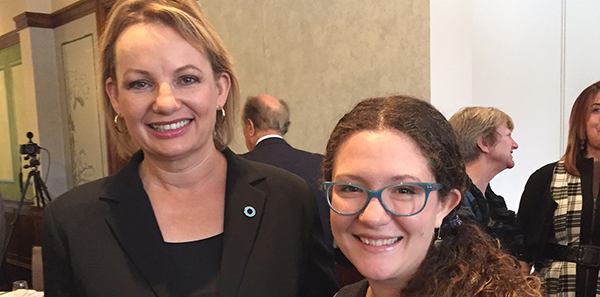 Federal Health Minister Sussan Ley (L) and Eleanor Kerdo at the launch
_______________________________
By Helen Carter
Journalist
The Australian Government's new diabetes strategy has been launched as figures reveal that 280 Australians develop diabetes every day or one every five minutes.
The Australian National Diabetes Strategy 2016-2020 contains goals and potential areas for action to tackle the rising epidemic. One suggestion is to develop nationally agreed clinical guidelines, local care pathways and complication prevention programs.
Primary health networks and the health system could develop locally tailored pathways of care for people with diabetes and complication prevention programs for multiple or single complications, the strategy suggests.
Releasing the strategy on World Diabetes Day, 14 November, Federal Health Minister Sussan Ley said it was a blueprint for improving the prevention, care and management of diabetes to the end of the decade.
'Diabetes related complications include heart attack, stroke, amputation, blindness, kidney failure, depression and nerve disease but in many cases the disease is preventable,' Ms Ley said in a media release. For this reason the emphasis of the strategy is on prevention, early diagnosis, intervention, management and treatment, centred on the role of primary care.'
The strategy recommends co-ordination and integration of diabetes care across services, settings, technology and sectors.
Its goals are preventing people developing diabetes, promoting awareness and earlier detection, reducing occurrence of complications and improving quality of life in patients, and reducing the impact of diabetes in pregnancy, among Indigenous people and other priority groups; and strengthening prevention and care through research, evidence and data.
The reducing complications goal suggests supporting current access to flexible telemedicine consultations including eye screening programs.
The reducing the impact in Indigenous people goal suggests promoting access to necessary specialist support through strategically located regional networks of care, optimising telehealth services and linked facilities for the treatment of serious complications including eye disease.
An Optometry Australia submission to the strategy recommended developing strategies to promote and encourage guideline-recommended access to comprehensive eye examination by optometrists for assessment and early detection of diabetes-related eye and vision conditions.
The submission suggested promoting and implementing evidence-based guidelines for early detection and management of patients with diabetic eye disease, and supporting better collaboration between optometrists and other health-care providers to achieve better outcomes for diabetic patients.
It recommend establishing care pathways between optometry and tertiary services that support monitoring of stable diabetic eye disease, and improving access to eye examinations for Indigenous people by expanding the Visiting Optometrists Scheme into urban Aboriginal Medical Services.
The seventh edition of the global Diabetes Atlas, also released on World Diabetes Day, revealed that more than 100,000 Australians had developed diabetes in the past year.
CEO of Diabetes Australia, Professor Greg Johnson, said stronger action was needed to prevent more cases and to better care for and support those with diabetes.
He said 1.17 million Australians had been diagnosed with diabetes but as many as 1.7 million could have diabetes, taking into account those who are unaware they have the disease.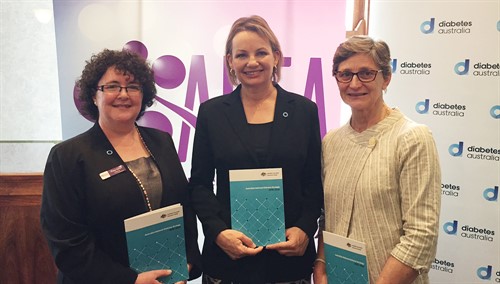 Australian Diabetes Educators Association president Tracy Aylen (L) and CEO Dr Joanne Ramadge (R) with Health Minister Sussan Ley
Filed in category:
Uncategorised