Read time:

1:30min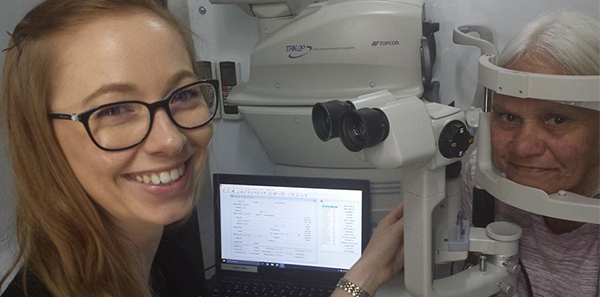 (L-R) Allana Neumann with an Indigenous patient at the Warwick clinic
______________________________
By Philip Ritchie
Journalist
A mobile optometry van has visited Aboriginal Medical Services in regional Queensland to help curb the high prevalence of Indigenous eye conditions.
Carbal Medical Services in Warwick was the van's first destination before it made the journey up to the clinic's other location in Toowoomba. The van spent a working week conducting eye tests at each location.
CEO of the Essilor Vision Foundation Greg Johnson, who orchestrated the visits, said he jumped on the opportunity to send a mobile clinic to Carbal when the opportunity arose.
'It's very difficult to get an optometrist to go away from their practice for a day to undertake full examinations,' Mr Johnson said.
'When the opportunity arose with a fully equipped mobile van and two weeks to do humanitarian tasks, I immediately went to Carbal Medical Services and got a resounding yes. Carbal put out the call to patients: we're going to be doing eye tests here, and they filled their books pretty quickly.'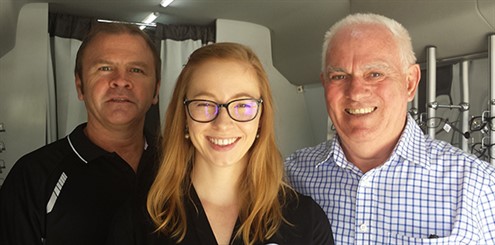 (L-R) Scott Lumsden, Allana Neumann and Greg Johnson
The van's optometrist Allana Neumann, a graduate from Queensland University of Technology's Bachelor of Vision Science and Master of Optometry, said she conducted more than a dozen full eye tests per day with the help of dispenser Scott Lumsden.
'They drove the van into the carpark of the clinic, plugged into power and away they went. It has a full consultation room and a lovely range of spectacles,' Mr Johnson said.
Eye tests were bulk billed, and patients that needed spectacles received them under the Queensland Government's Medical Aids Subsidy Scheme. If patients were ineligible, Mr Johnson said the Essilor Vision Foundation provided spectacles.
'It's really nice to work in a varied workplace and visit areas that you can see the sunlight,' Allana said.
'One of the best things is being able do eye tests on people that never would've gotten their eyes tested in their own time. We saw quite a few first-time eye tests and a lot of them needed glasses.
'Patients with diabetic retinopathy, cataracts, glaucoma, medication-related complications and dry eye were pretty standard.'
The mobile clinic comes equipped with a slitlamp, a refractor head and a four-in-one auto refractor, tonometer, keratometer and pachymeter, Allana said. She's passionate about educating first-timers about their eye health.
'I really would like to work in conjunction with local optometrists because it's important for people to develop a relationship with them and encourage more regular tests. Education is a really important thing.'
Carbal Medical Services CEO Brian Hewitt said the visit had a huge impact on the community.
'It's very difficult for Indigenous Australians to be able to access eye care in the first place and then be able to afford it. When we can get schemes, such as the mobile van visiting Warwick, that's a godsend for us in trying to provide closing-the-gap services,' Mr Hewitt said.
'We're working with a demographic that just doesn't have the disposable income that's needed to access specialised, non-bulk billed services,' he said.
'We have over a third of Indigenous people who haven't had an eye exam. With the more remote or inner-rural areas like Warwick, that figure can climb to two-thirds of the Indigenous population.'
Warwick has a population of 800 Indigenous Australians, according to the Australian Bureau of Statistics, and Toowoomba has 5,800.
Mr Hewitt is happy to host mobile optometrists any time.
Other mobile clinics travelling Australia include the IDEAS Van in Queensland and the Lions Outback Vision Van in Western Australia.
______________________________
Filed in category:
Uncategorised