Read time:

1:30min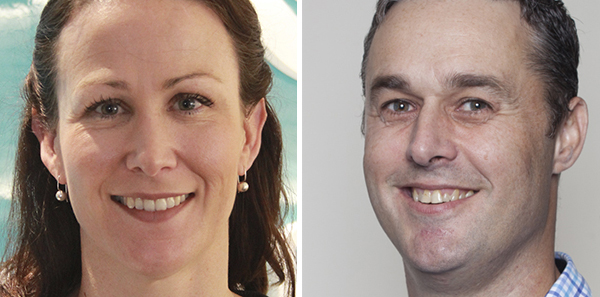 Heidi Hunter and Mark Koszek
______________________________
By Helen Carter
Journalist
The importance of collaboration between optometrists, GPs and pharmacists will be emphasised at a series of networking events for the three groups of health professionals.
Optometry New South Wales has organised the events to take place in the state's biggest regional areas in Orange, Wagga Wagga, Tamworth and Port Macquarie. The free GP and pharmacy engagement evenings include dinner, drinks, education and networking, and the first one will be held in Orange next week.
The three health-care groups often refer patients to each other, which requires them to understand each other's roles in eye care.
While the main purpose of the events is networking, the engagement evenings will also explain to GPs and pharmacists what else optometrists do apart from prescribing spectacles including management and treatment of red eye and anterior eye conditions. The important role of optometrists in detecting and co-managing eye diseases such as glaucoma, diabetic retinopathy and macular degeneration will also be discussed with an emphasis on strengthening referral pathways to optometry.
Optometry NSW CEO Andrew McKinnon organised the events.
'The events are a continuation of our broad objective to improve the relationships of local optometrists, GPs and pharmacists,' Mr McKinnon said. 'The division has invited these practitioners in each of the four regions to the events, and we have added CPD to the evening, including education on red eye and glaucoma.
'It's good for the local optometrists to gain some CPD points while they are there and we have pitched it so pharmacists and GPs will also get something out of it.
'The education sessions will explain that optometrists don't just prescribe spectacles but explain their roles in eye health and eye disease prevention, detection and treatment.
'For example, the red eye talk will explain what typically presents as a red eye, what to do if someone comes into a pharmacy with a red eye and immediate triage. Then we will go through what optometrists do when a red eye presents and what else optometrists can do,' he said.
'We're trying to get optometrists to talk to GPs and pharmacists more so these events are a really good point of reference and a starting point for collaboration. For people in regional areas where medical services are stretched, it's good for health professionals to be more aware of and use optometry services more.'
Optometrists, GPs and pharmacists can register for the Orange event on 20 September by emailing Andrew McKinnon at andrew@oaansw.com.au by this Friday, 15 September.
Registrations close on 25 October for the Tamworth event on 8 November.
Registrations close on 8 November for the Wagga Wagga event on 20 November.
There will also be an event at Port Macquarie early next year.
Speakers include optometrists Mark Koszek at Orange and Wagga Wagga, and Heidi Hunter at Tamworth.
Filed in category:
Uncategorised