Read time:

1:30min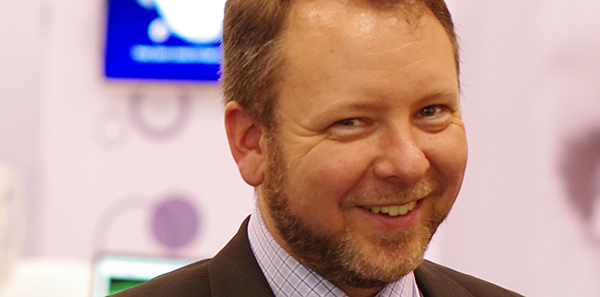 Dr Neil Shuey
______________________________
By Helen Carter
Journalist
The most important skill for optometrists confronted with a neuro-ophthalmic emergency is identifying a safe and appropriate path for referral, according to neurologist Dr Neil Shuey.
'It is important to know your options including referral to emergency departments and private specialists,' he said.
Dr Shuey is a consultant neurologist and head of the Neuro-Ophthalmology Clinic at the Royal Victorian Eye and Ear Hospital. He trained initially as an optometrist and has a special interest in neuro-ophthalmology, the clinical study of neurological disorders of the visual system.
He will discuss neuro-ophthalmic emergencies at the largest optometry conference in Australia, Optometry Victoria's Southern Regional Congress, in Melbourne on 5-6 March.
'Many things result in anxiety and urgent referrals but I've tried to limit this topic to genuine emergencies by which I mean presentations that require urgent medical intervention to prevent a poor outcome such as death, blindness or neurological disability,' Dr Shuey told Australian Optometry.
Top five
'My top five concerns using this measure would be suspected intracranial aneurysm, acute stroke, suspected giant cell arteritis, vision- or life-threatening papilloedema and optic neuropathy with sudden severe vision loss,' he said.
'The central nervous system generally, including the optic nerves and visual pathways, has limited capacity for recovery after injury.
'Giant cell arteritis (GCA) is a very good example because once vision loss has occurred it is both severe and permanent. If recognised early enough, vision loss in the other eye might be prevented by commencing appropriate treatment.
'Optometrists are also ideally placed to monitor patients in conjunction with other specialists, for example, visual field and OCT evaluations of stable patients with papilloedema or optic neuropathy.
'There is definitely a medico-legal aspect to consider. The two most common reasons in neuro-ophthalmology for clinicians to be sued are failing to recognise or treat GCA early enough, and failing to treat papilloedema with sufficient urgency.
'In general, it is better to err on the cautious side and most optometrists sensibly adopt this strategy.  Emergencies of the type that I'm discussing all need urgent referral but the best way to do this varies.
'Optometrists are good at identifying and referring patients but like all of us, there is room for improvement. All clinicians build their experience and skills over the course of their whole career,' he said.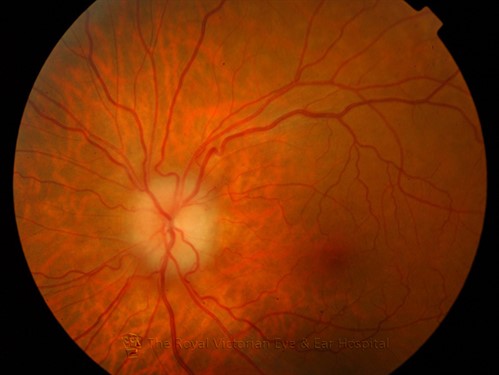 Papilloedema   Photo: Medical Photographic Imaging Centre, The Royal Victorian Eye and Ear Hospital
Tips 
Dr Shuey's number one tip is: don't panic.
'No matter how urgent the situation, and cardiac arrest requiring CPR might be an extreme example, there is never any benefit gained by anyone by panicking,' he said.
'Number two; let the tempo of the illness dictate the tempo of your management. 
'If the illness has presented over minutes or hours, this is generally much more likely to require an equally urgent response. Asymptomatic or incidental findings, on the other hand, are much less likely to require an urgent approach.'
Dr Shuey is also a consultant neurologist and head of the Neuro-Immunology Clinic at St Vincent's Hospital and is a neuro-ophthalmologist in private practice as director of Neurology Victoria.
'I commonly see patients with optic neuritis and other optic neuropathies, papilloedema, diplopia et cetera. Specific conditions considered [to be] neuro-ophthalmology include optic neuritis, ischaemic optic neuropathy, cranial nerve palsies, myasthenia gravis, idiopathic intracranial hypertension, nystagmus and so on,' he said.                                                                                                                                                                                                                                                                            
SRC's new venue 
Speakers at SRC will present the latest developments in research, best practice management and industry.
The conference offers up to 49.5 CPD points including 24 therapeutic points across a dual stream education program and will be held at a new venue, Pullman and Mercure in Albert Park.
Optometry Victoria CEO Pete Haydon said that for the past few years, Optometry Victoria had been looking for ways to better respond to delegates', exhibitors' and sponsors' needs.
'Responding to feedback is part of the reason we've moved the event from the Melbourne Convention and Exhibition Centre, where the lecture theatres were a long way from the trade exhibition, to the Pullman and Mercure in Albert Park,' he said.
'The lectures and trade exhibition will now be next door to each other so it should be a very active trade expo. We have rebranded and relaunched the event and we are really excited about the new look and new feel.
'We have two new major sponsors, Alcon and CR Surfacing. CR Surfacing hopes to bring its replica Red Bull Formula 1 racing car, which should be a good visual prop for photos and a bit of fun for delegates.'
Trade exhibition 
Mr Haydon said the trade exhibition helped to keep costs down for delegates. He is urging them to engage with exhibitors and support those businesses that continue to support the profession by supporting SRC.
'There is a lot of CPD now but the strength and quality of the SRC education program is the main reason we do it and the reason why delegates return year after year. The strong, diverse education program meets delegates' needs, delivering cutting-edge insights and helpful practice management information,' he said.
Key speakers are US-based, internationally renowned optometrist Dr Jeffry Gerson, voted by SRC delegates as 'the most popular SRC presenter ever', who has returned for his second SRC; and SRC newcomer and fellow American, the dynamic Dr Nate Lighthizer.
Dr Gerson will present on genetics and AMD and his speciality, medical treatment of retina and retinal findings in systemic disease, while Dr Lighthizer will discuss viruses in the eye, uveitis rules and classifications, anterior segment procedures and glaucoma cases, with a focus on gonioscopy.
High-calibre local speakers include Dr Laura Downie, Associate Professor Peter Keller, Paula Katalinic, Professor Nathan Efron, Dr Jaqueline Beltz and Associate Professor Mark Roth.
Dr Gerson will sit on a diabetes panel with Professor Efron and Ms Katalinic, and Dr Lighthizer will co-host a rapid fire anterior eye session with Professor Roth, who will also address oral therapeutics in practice.
Professor Efron will present the HB Collin Research Medal lecture, 'Is contact lens wear inflammatory?' on 5 March.
Careers expo
About 100 Melbourne and Deakin optometry students will have free access to the sessions on 5 March before attending a career expo on Saturday afternoon at the conference venue. A panel of early career independent, corporate and not for profit optometrists will answer audience questions from students, and students will be able to mingle with prospective employers.
The Saturday night dinner will feature a band.
Visit the website for information and to register.
Filed in category:
Uncategorised