Read time:

1:30min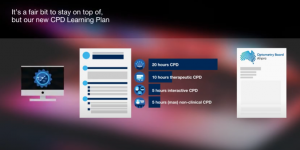 By Optometry Australia
Optometry Australia has been busy developing the framework that guarantees members have the right tools to meet the Optometry Board of Australia's (OBA) new CPD requirements.
Today we are pleased to launch our new online Learning Plan which has been specifically designed to make it as easy as possible for members to meet the OBA's new mandatory CPD registration requirements. The Learning Plan will enable members to:
Specify their learning goals for the CPD year;
Identify CPD activities that are best suited to helping them realise these goals; and
Provide a written reflection on each CPD activity they undertake, as required by the OBA.
'The Learning Plan we have designed for members will track how many hours of CPD they have undertaken, how many they plan to undertake, as well as whether they have met their minimum requirements for therapeutic and interactive CPD hours', Optometry Australia Professional Services Manager Simon Hanna said.
The Learning Plan is linked to Optometry Australia's CPD calendar and events listings  which will enable members to search for CPD that meets their needs and then add those courses/programs to their Learning Plan.
We encourage members to check it out and start developing their 2021 CPD plan as required by the OBA. To get them started, members can take a short video tour of the Learning Plan and learn how-to use this essential tool.
Quality assured CPD
Under the new OBA CPD registration requirements there is no need for CPD to be accredited. However, to enable members to quickly identify quality CPD that meets their needs, Optometry Australia has introduced the Institute of Excellence Quality Assurance Program. This means that all CPD promoted via Optometry Australia's calendar and events listings on the Institute of Excellence will first be quality assured so members can be comfortable it meets the key criteria for quality optometric education.
Further, completion of any Institute of Excellence Quality Assured CPD activity, including hours or part-hours, will automatically be uploaded to their Learning Plan. They also have the option of manually adding other completed CPD activities to their plan.
What's changing?
For a refresher on the new OBA CPD registration requirements see our comprehensive guide. As a reminder, the key changes are:
A move from a rolling two-year CPD points-based system to a one-year CPD time-based system;
The need for all optometrists to complete a Learning Plan; and
20 hours of CPD (30 hours for therapeutically endorsed optometrists), including at least 5 interactive hours, and at most 5 non-clinical/non-scientific hours, annually, to meet registration requirements.
We will continue to roll-out resources to help members transition to the new OBA CPD Registration Standard.  If you have any queries, please don't hesitate to contact us at national@optometry.org.au or our Optometry Advisor Help Desk on 03 9668 8500.
Filed in category:
General news
,
Guidelines & practice notes
,
Marketing
,
Member resources
,
Sector news
,
Workforce
,
Workplace
Tagged as:
AHPRA & OBA
,
Future
,
Marketing
,
Member services
,
Sector changes
,
Stakeholders & partners