Read time:

1:30min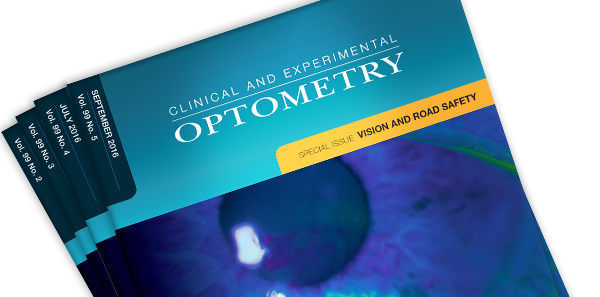 By Sandra Shaw
National Communications Manager
PDF files of whole issues of Clinical and Experimental Optometry are available on the Optometry Australia Archive website, as a new member service.
Each PDF of an issue is complete with all articles, list of contents and cover, in one single file. The PDFs are smaller than 5 MB each and can be printed or downloaded.
To access the PDF files, members can login on the Optometry Australia website's Publications ARCHIVE and select < CXO >.
The PDF archive includes all six issues published since January 2016, when the journal ceased print in the transition to solely digital publication. As each new issue is published, it will be added to the archive.
These single issue PDFs complement the other convenient ways of reading the journal.
The Wiley Online Library offers a choice of Enhanced HTML or individual paper PDFs. Readers can enjoy interactive links to a figure viewer and bibliographic citations.
The iOS and Android Apps allow readers to download articles and issues for reading offline, receive notifications when new issues are available, browse through issues before downloading them, and save favourite articles.
Get the most out of the Wiley Online Library
Members are reminded that there is a fast and easy way to view articles on the Wiley Online Library website. They first need to Register and Affiliate on the website, which will then remember their login details and provide free access every visit.
Journal article links in our online news stories and emails give members direct access to the Wiley Online Library. To have full access to papers, members who have Registered and Affiliated need only to click 'Log in'.
Just complete Step 1 to Register and Step 2 to Affiliate on the Wiley website. If a member has already Registered on the Wiley website, they can go straight to Step 2 to Affiliate. Registration and Affiliation are a one-time process. Once members have Affiliated, they will not need to use their Membership Number and Access Code again.
Look for the link to the January 2017 issue PDF in the next Clinical and Experimental Optometry contents email alert, or visit the Optometry Australia website ARCHIVE any time.
Wiley Online Library
Download iOS App instructions
Download Android App instructions
Filed in category:
Uncategorised