Read time:

1:30min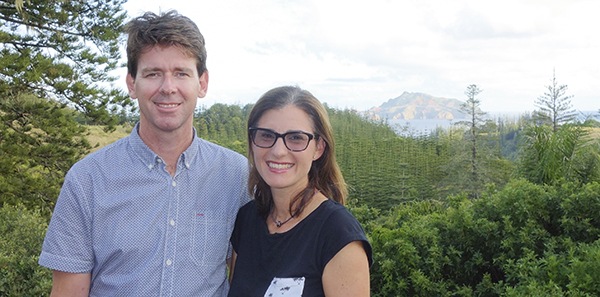 John and Dominique Kelly
______________________________
By Patrick Hutchens
John and Dominique Kelly are the only optometrists living and working on Norfolk Island, the external territory located off the east coast of Australia. A suite of changes expected to be made to the island's tax system next year will put their business in jeopardy.
In March, the Australian Government announced that it would dissolve Norfolk Island's Parliament and replace it with a local council. From July 2016, for the first time residents will pay income and business tax to the mainland government.
The measures have been adopted as a way to repair Norfolk Island's economic position and allow residents to access Australian social security, Medicare and the Pharmaceutical Benefits Scheme.
The changes are also pushing some small business owners there to consider ceasing operation.
John and Dominique Kelly moved to Norfolk Island 11 years ago, lured by an attractive business model.
The population of Norfolk Island was too small to support an optometrist, but with tax-free personal and business concessions, and a boom in the number of retired tourists visiting the island, they bought from a retiring optometrist a practice that appeared to have a bright future.
Mr Kelly said that when they arrived, about half of their business came from tourists getting eye examinations there.
After the global financial crisis, the number of tourists declined and revenue suffered a 40 per cent downturn.
The proposed changes to the tax system, combined with the loss in tourist revenue will mean that the Kellys will have to consider returning to the mainland.
Norfolk Island has fewer than 1,500 residents.
'We'll probably have to close down, to be honest. The model of the practice is based on paying no income tax and no company tax. There have been studies in Australia that show optometrists require about 7,000 people in a community to support a single optometrist,' Mr Kelly said.
'It's very sad for us to think about leaving but unfortunately its more than just the straw that broke the camel's back, it's the log that broke the camel's back,' he said.
Rewards, challenges
The adventure of working on an island paradise has brought more than just the obvious rewards for the Kellys and their nine children.
As soon as he arrived on Norfolk Island, Mr Kelly met professional clinical challenges that he had not encountered while working in Brisbane.
'When I got here I realised I was really unprepared to deal with practice in a very remote location,' he said.
In the first two weeks, he had to decide whether to order medical air transport for patients who had retinal detachments. Ordering a Medevac cost the cash-strapped Norfolk Island government upwards of $30,000 for each trip.
'The doctor said to me, "What are we doing? Are we getting a Medevac in? You're deciding.' That's a lot of money. In the city, you're just sending them to an ophthalmologist,' Mr Kelly said.
Like many optometrists who practise in small communities, Mr Kelly also has a personal relationship with patients who are his friends and neighbours.
'It forced me to become significantly better. I'm thankful that I came over here because I'm 10 times the optometrist I was before I came,' he said.
Norfolk Island has a particular need for an optometrist. The unique ancestry of the island's residents has resulted in an unusually high number of patients with glaucoma.
Many residents are descended from the mutineers of HMS Bounty. In 2007, Australian ophthalmologist Dr David Mackey travelled to Norfolk Island to study this cohort.
'One of those mutineers had a very aggressive glaucoma gene, so the glaucoma rates here are double those of the mainland. Those people need someone here,' Mr Kelly said.
Norfolk Island is the only place where the Kelly family wants to live, but if the changes to the tax system on the island are introduced, Mr Kelly would try to return there as often as possible.
'I don't really want to live in the city, this is paradise,' he said.
Filed in category:
Uncategorised