Read time:

1:30min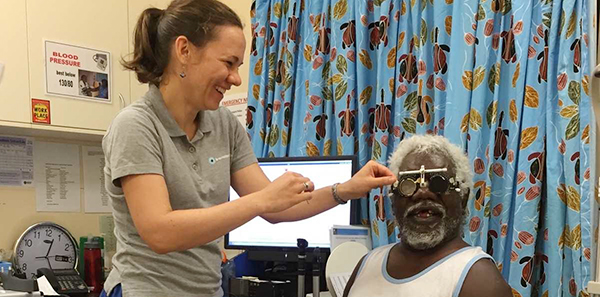 Anna Morse and patient Russell   Photo: Brien Holden Vision Institute
______________________________
By Helen Carter
Journalist
Optometry Australia is concerned that new one-year contracts for optometrists in the Visiting Optometrists Scheme (VOS) could negatively impact the delivery of services to remote areas and some rural areas.
Optometry Australia has written to the Federal Minister for Rural Health, Fiona Nash, noting its concerns and encouraging the government to commit to lengthier future contracts to sustain the scheme.
'We are concerned that the reduction in contract periods for this vital outreach scheme means the Australian Government's ongoing commitment to the scheme may be wavering,' Skye Cappuccio, Optometry Australia's national policy manager, said.
'Contracts used to be two years but we were expecting them to increase to three this time around as VOS is now managed by jurisdictional fund-holders who manage a similar scheme for specialists (the Rural Health Outreach Fund), which is usually three years.
'We believed there would be three-year contracts to align with this,' she said.
'Optometry Australia has now been informed that jurisdictional fund-holders for VOS will be offered only 12-month contracts to implement the scheme from 1 July 2016.
'While there has been a series of short contracts recently associated with delays in VOS transitioning from a Commonwealth co-ordinated scheme to be managed jurisdictionally by fund-holder organisations, traditionally optometrists have been contracted under VOS for two-year periods.
'We understand that jurisdictional fund-holders have been recontracted for only 12 months for the Rural Health Outreach Fund also.'
Service disruption, paperwork increase
Ms Cappuccio said Optometry Australia was concerned that such short contract periods could have  negative impacts on optometrists' capacity to plan service delivery and may see a disruption to service continuity.
'Further, short contracts can increase paperwork with the need to regularly reapply for contracts,' she said.
'There is a risk that these shortened contracts may put optometrists off taking part in VOS, leading to some remote and rural patients missing out on vital optometric services, and that valuable time will be lost to unnecessary bureaucracy.
'VOS has been running for more than 40 years as a commonwealth supported program and commonwealth targets aimed to have VOS supporting service delivery to 520 outreach sites last year.
'VOS continues to support the provision of important eye-care services to many communities that otherwise would simply miss out.'
VOS optometrists to lobby MPs
Optometry Australia is planning further advocacy action and will call on VOS optometrists to help lobby MPs in the areas they visit. This will take place after the 2 July Federal Election.
The Visiting Optometrists Scheme supports optometrists to deliver outreach optometric services to remote and very remote locations, and rural communities with an identified need for optometric services.
Filed in category:
Uncategorised