Read time:

1:30min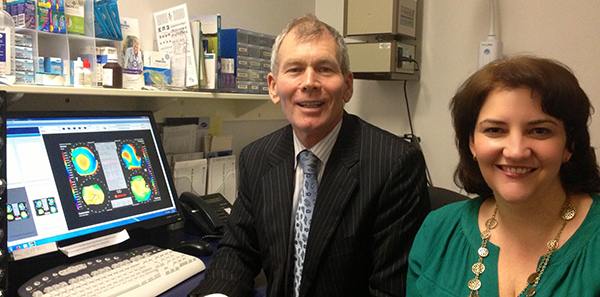 Samantha Bushby and Southern Eye Centre ophthalmologist Dr Stephen Bambery
_____________________________
Helen Carter
Berwick optometrist Samantha Bushby had always wanted to become therapeutically endorsed but the logistics of practising in the bush and having two small children made attending city lectures virtually impossible.
When the Australian College of Optometry's online Certificate in Ocular Therapeutics began in February, Mrs Bushby, who is from outer suburban Melbourne, was first in line.
'I had been wanting to do a therapeutics course since they started in Victoria because it means a higher level of qualification, it makes my practising life more satisfying and work more interesting and I can offer patients that extra level of care,' she said.
'Where I practise now the others are therapeutically endorsed and I see how wonderful it is for everyone and how fantastic it is for the patients.
'Already I feel more motivated since starting the course and have more self-pride by saying to patients "I can help you with that" instead of having to ask fellow optometrists if they can have a look.'
Mrs Bushby graduated in 1994 and practised in Melbourne before moving to Alice Springs and Karratha, Western Australia, then Sydney.
Becoming therapeutically endorsed during the outback years or while in Sydney with a young family was almost impossible. Attending lectures in person was still not feasible for Mrs Bushby when she moved to part-time work at Berwick Family Eyecare, as she is a mother of two young children and her husband, a pilot, is often away for his work.
'The course is delivered more at your own pace, you can watch lectures again and the good thing is the accessibility,' she said.
The theoretical component involves participants watching two online lectures per week that are available to download any time.
'The ACO is a trusted academic and teaching institution and I knew it would have high quality lecturers and learning. The quality of the lecturers is brilliant. They are top optometrists and ophthalmologists.
'Therapeutic endorsement is hard work and just because you are doing it online doesn't mean it is easier, it is still a tough course. I couldn't think of any way the ACO could have made it more accessible or better.'
One day a week while one child is at school and the other at crèche, Mrs Bushby watches lectures and watches them again, especially for revision before examinations.
'I treat it as a job, devoting the day to it—no housework, just lectures,' she said. 'It is a good format for me because I am a slow writer and this works well for me.'
Weekly webinars at 7 pm AEST go for 60 to 90 minutes. Participants can email questions and contributions in an online forum, and email lecturers for information or to ask questions.
Written examinations in May and September at Optometry Victoria offices with 14 other candidates, with cost-free use of the office, enabled candidates to split the invigilator's (supervisor's) fees.
'People arrange an exam site and invigilator local to them,' Mrs Bushby said.
There are also 50 hours minimum of clinical placement, which Mrs Bushby has started with local ophthalmologists in Frankston and Berwick.
'I refer to them both a lot but had only met one so it has strengthened our relationships. I have got to know how they are with patients and how their practices run,' she said. 'I now feel more comfortable comanaging with them and knowing the intricacies of how they do things.'
She heard about the college's COT course through ACO newsletters and at an SRC conference, and has urged fellow optometrists with young children to do the course. Mrs Bushby received a discounted fee for paying in advance and because she is an ACO member.

Filed in category:
Uncategorised