Read time:

1:30min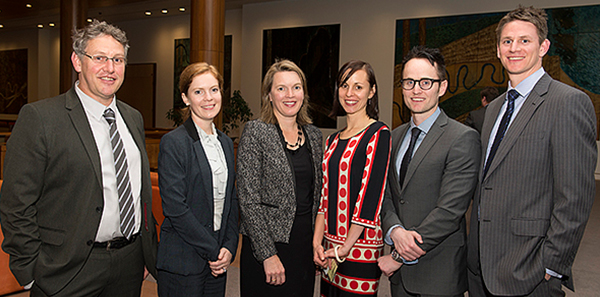 (L-R) Andrew Harris, Kate Johnson, Genevieve Quilty, Skye Cappuccio, Christopher Poulter and Jared Slater    Photo: Vision 2020 Australia, IdPhoto
_____________________________
Parliament
It has been a busy period for representation to key government decision-makers. In the lead up to a Federal Budget expected to be focused on cost-savings and mooted to include changes to the funding of direct health services, the association has met with an adviser to Assistant Health Minister, Senator Nash, and written to Prime Minister Abbott and his two health Ministers to help ensure the value of government support for patients to access optometry services through the MBS and Visiting Optometrists Scheme is appreciated.
We also met to discuss these issues with relevant members of the Opposition, including Shadow Health Minister, Catherine King, and Amanda Rishworth. Further meetings with members of both parties are planned for the near future.
The association has been working with a small group of members to support them in further developing their relationships with their local MPs and Senators. Some of these relationships were developed in the early stages of the association's campaign to remove the MBS fee cap.
This is important to ensure there are well-informed advocates for optometry and primary eye care in the Parliament.
National Office and the state Divisions of the association have been working collaboratively to ensure that federal and jurisdictional health ministers recognise the community benefits of full-scope optometric practice and understand the potential implications to patient access of the legal action being taken by ASO and RANZCO in Queensland regarding optometric prescribing.
Private Health
The association has engaged in a series of meetings with Private Health Australia and its members, all of which are Australian health funds. We met to discuss opportunities to work collaboratively to ensure interpretations of optical claiming codes are clear and shared by all funds and optometrists, and to encourage positive approaches by health funds in their compliance activities. Members will be kept abreast of work as it develops.
Costs of care
An independent consultant has been contracted by the association to undertake an analysis to determine standard costs of providing optometric clinical services through private practice. The input of members, to be called for soon, will be vital to this analysis. This information will inform the association's ongoing campaign to secure the removal of the MBS fee cap and work to ensure government funding for optometric services is better matched to the costs of providing such services.
Medicare Locals
The association has written to all Medicare Locals as they enter their annual regional needs assessments and planning processes, to ensure they consider the eye health needs of their population and to encourage them to engage with local optometrists to support strong networks between optometrists, GPs, pharmacists and other primary eye-care providers. The association encourages optometrists to be proactive in engaging with their Medicare Local and sharing with them opportunities to improve eye-care delivery locally.
Government
We will meet with the Department of Veterans' Affairs as part of the Optical Advisory committee in early April. The association will focus on seeking full consideration of its input to the review of the DVA optical schedule undertaken in the later part of 2013.
The association has also met with the Department of Health to stress the need for further action beyond the market analysis of optometric services, to consider the association's request to remove the MBS fee cap.
Separate discussions with the department have been directed at ensuring changes in the planning and administration processes associated with the Visiting Optometrists Scheme services do not lead to delays in service provision.
Stakeholders
We have emphasised the need to consider how best to utilise the optometric workforce to meet the needs of the community and improve population eye health outcomes, at consultations to support forward planning of a number of key stakeholder organisations, including Vision2020 Australia, Health Workforce Australia, the National Prescribing Service and the Pharmacy Guild.
The association also welcomed the opportunity to contribute to a workshop conducted by the Indigenous Eye Health unit to support the further development of regional approaches to promote indigenous eye health.
Filed in category:
Uncategorised