Read time:

1:30min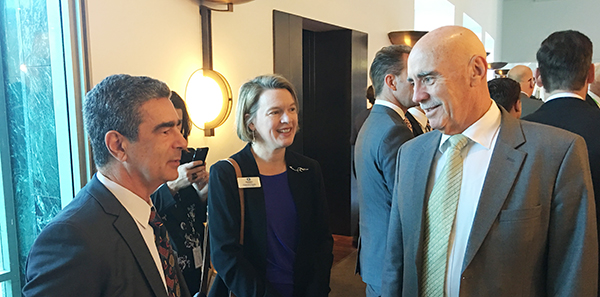 Steve Zantos (L) and Genevieve Quilty with MP Warren Snowdon at the breakfast this morning
______________________________
By Ashleigh McMillan
Journalist
Optometry Australia director Steve Zantos and CEO Genevieve Quilty attended the World Sight Day Parliamentary Friends Breakfast today and the launch of the National Eye Health Survey.
Optometry Australia's national policy manager Kirsty Machon and national clinical policy adviser Simon Hanna were also part of optometry's representation at the event at Parliament House, Canberra.
Ms Machon says the event is a platform for Optometry Australia to discuss with Members of Parliament issues that are important to optometry, including continuation of funding for the Visiting Optometrists Scheme past 30 June 2017 and Medicare rebates for patients.
'It was gratifying to see that MPs from all political parties are committed to improving Australia's eye health including closing the gap for Indigenous health. We were able to talk to MPs and other decision-makers from the Department of Health to highlight the importance of programs that support those issues, including the Visiting Optometrists Scheme,' Ms Machon said. 'MPs were also interested in the impact of the Medicare indexation freeze on optometry services.'
The Parliamentary Friends of Eye Health and Vision Care group co-convenors, MPs Dr Andrew Laming and Amanda Rishworth, opened the breakfast. Assistant Minister for Health and Aged Care Ken Wyatt talked about his experience taking part in the National Eye Health Survey.
Other speakers included Paralympian and Vision 2020 global ambassador and board member Dr Jessica Gallagher, MP Tony Zappia and Dr Mo Dirani, principal investigator for the survey.
National Eye Health Survey launch
The Assistant Minister for Rural Health David Gillespie and Vision 2020 Australia CEO Carla Northam launched the National Eye Health Survey. The project was overseen by Vision 2020 Australia and led by the Centre for Eye Research Australia.
The survey was conducted at 30 test sites in rural, regional and metropolitan areas, with more than 4,800 people having their vision assessed for the project between March 2015 and April 2016.
Ms Machon says the National Eye Health Survey has communicated to parliamentarians that optometry and ophthalmology are working together with a focus on remote areas, to improve Australia's eye health.  
An important message from the survey is that uncorrected refractive error remains the nation's top cause of vision impairment. The survey also provides insight into Indigenous eye health.
'It's great to see an increase in the numbers of Aboriginal and Torres Strait Islander people accessing screening for diabetic retinopathy, but the report has highlighted a still significant gap between the levels of retinal screening accessed by Indigenous and non-Indigenous Australians with diabetes,' Ms Machon said.
'It was very encouraging that the Members of Parliament realise that the National Eye Health Survey has been a collaborative effort, with optometry having made an important contribution in the capture of data,' she said.
The National Eye Health Survey was funded by the Australian Government, with contributions from Brien Holden Vision Institute, Centre for Eye Research Australia, National Aboriginal Community Controlled Health Organisation, Novartis, OPSM, Optometry Australia, Royal Flying Doctor Service and Zeiss.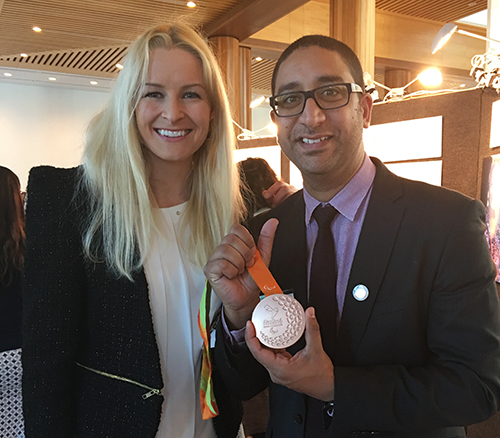 Dr Jessica Gallagher and Simon Hanna
Filed in category:
Uncategorised