Read time:

1:30min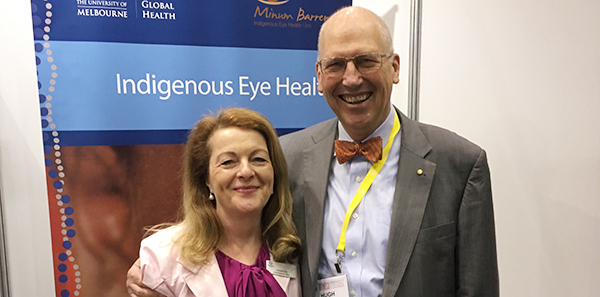 Optometry Australia CEO Lyn Brodie and Professor Hugh Taylor
______________________________
By Helen Carter
Journalist
The blindness rate in Indigenous communities has more than halved in nine years and is on track by 2020 to reduce to the same rate as in non-Indigenous Australians, new data show.
The 2017 Annual Update on the Implementation of The Roadmap to Close the Gap for Vision highlights that rates of blindness and impaired vision have dropped from six times higher in Indigenous populations than non-Indigenous populations in 2008 when the Roadmap work started, to three times higher than the national rate today.
The report also reveals progress in increasing eye examination rates for Indigenous Australians and improvements in diabetes retinal screening where half of Indigenous people with diabetes are now receiving eye examinations compared with only one-fifth nine years ago.
It notes the important contribution that optometry is making to Close the Gap for Vision across Australia.
Head of the University of Melbourne's Indigenous Eye Health, Laureate Professor Hugh Taylor, launched the update in Perth on 30 October at the Royal Australian and New Zealand College of Ophthalmologists annual scientific congress.
The university's Indigenous Eye Health team developed the Roadmap and provides backbone support for the collective efforts which have led to the drop in blindness rates. The team and its work began in 2008, and the Roadmap was launched in 2012 and is now active in 37 regions covering more than 60 per cent of Australia's Indigenous population.
'This is a very encouraging improvement but more needs to be done,' Professor Taylor said in a media release. 'With on-going work from all stakeholders, we are determined to close the gap for Indigenous vision by 2020.'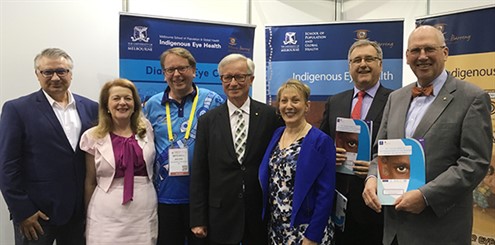 (L-R) Tony Martella, Lyn Brodie, Mitchell Anjou, former Fraser government Aboriginal Affairs minister Fred Chaney, Carla Northam, RANZCO president Associate Professor Mark Daniell and Professor Hugh Taylor at the launch
Roadmap progress
53 per cent of Indigenous people with diabetes are now receiving eye examinations as required, compared with 20 per cent in 2008. This is still not as high as for non-Indigenous diabetic patients, up from 50 per cent to 78 per cent.
Trachoma in Indigenous children aged nine and younger has dropped from about 21 per cent to under five per cent.
Trachoma 'hot spots' have reduced from 54 to 16, and the number of communities without trachoma has jumped from 27 to 75.
Visiting Optometrists Scheme (VOS) eye examinations for Indigenous Australians have tripled and now provide 17 per cent of the population's need.
16 (38 per cent) of the Roadmap's 42 recommendations have been completed.
67 per cent of the Roadmap's activities have been completed but 18 per cent have not started.
Professor Taylor said successes that supported the Roadmap included increased funding of cataract surgery, optometry and ophthalmology visits, new Medicare listings supporting screening of eye care, health promotion, regional and jurisdictional oversight and new diabetic retinopathy cameras and training.
He said the update showed progress was being made on every recommendation in the Roadmap but ongoing systems reform and some increased funding would enable better service delivery.
Trachoma elimination programs engineered by the University of Melbourne team along with Indigenous leaders, partners and community members, are also part of the successful formula.
'We are the only developed nation with endemic trachoma. It is found only in Indigenous communities. We need more timely reporting of data to allow more intense targeted intervention in hot spots,' Professor Taylor said.
'There is also a need for cross-portfolio activity orchestrated by the Department of Prime Minister and Cabinet to ensure functional and safe bathrooms in these communities.'
Optometry leadership
Mitchell Anjou, Senior Research Fellow, Indigenous Eye Health, the University of Melbourne, said that despite several challenges optometry was facing, including new and changing fund-holder arrangements for VOS, reduced support through Medicare billing and inadequate and limited subsidised spectacle schemes, the 2017 Roadmap update noted the important contribution optometry was making to Close the Gap for Vision across Australia.
'There is great leadership being demonstrated through optometry organisations, including Optometry Australia, and the special efforts of a number of optometrists in each state and territory to ensure optometry continues to find ways to improve Aboriginal and Torres Strait Islander eye care,' he said.
'Thank you to those optometrists providing Visiting Optometrists Scheme services, to all those practitioners who work from within Aboriginal Medical Services and to my colleagues who work behind the scenes with organisations that prioritise care and systems for Indigenous patients.
'Optometry is leading the commonwealth-funded equipment and training roll-out to increase retinal screening rates for patients with diabetes, and optometry's skills and commitment to engagement with Aboriginal health sector and primary care are going to continue to reduce avoidable blindness.'
Mr Anjou said that those involved in Aboriginal and Torres Strait Islander eye health met at a national conference in March 2017 and committed to close the gap for vision by 2020. A follow-up national meeting is planned for March 2018.
'Optometry must continue to grow consultation service levels, improve access to spectacles and be involved in regional and jurisdictional stakeholder groups as our voice and activity is critical to achieve this goal,' he said.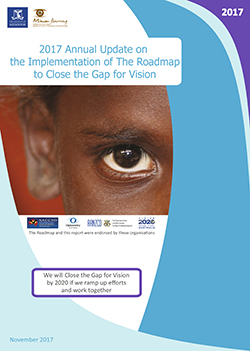 Filed in category:
Uncategorised