Read time:

1:30min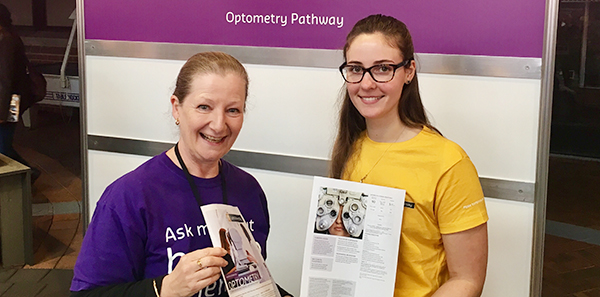 Associate Professor Georgina Fyfe (L) and student Jade Crow at the open day  Image: Curtin University
______________________________
By Helen Carter
Journalist
Western Australian students will be able to start their optometry degree at Curtin University in Perth next year before transferring to Flinders University, Adelaide to complete their studies.
Curtin University announced at an open day on 6 August plans to launch an optometry stream in the Faculty of Health Sciences at its Perth Bentley campus in 2018.
The new partnership between Flinders and Curtin universities will see 20 WA students per year studying the first year of their course at Curtin, before transferring to Flinders to complete years two to five of the Flinders double degree in optometry. Clinical placement may be able to be done in WA in the fifth year.
During the first year, students will study Curtin University's Human Biology Preclinical course, specialising in the new optometry stream. There will be no optometry specific course material in year one but students will study anatomy, physiology, biomedicine and integrated studies in human biology, emphasising applied human structure and function. This inter-professional year is taken with students from other health science degrees.
Optometry students then apply to be admitted to the Bachelor of Medical Science (Vision Science)/Master of Optometry at Flinders University.
Addresses maldistribution
Flinders University Foundation Chair of Optometry and Vision Science, Professor Konrad Pesudovs, said it had taken seven years of planning to set up the partnership with Curtin.
'It's part of the grand plan to address the maldistribution in the optometric workforce in Australia,' Professor Pesudovs told Australian Optometry.
He said most optometrists worked in capital cities and as "the big driver is where you come from," taking students from regional areas and other states would help redirect practitioners to those areas.
'Three-quarters of Flinders first-year optometry students are from South Australia, including from rural areas,' he said. 'We do take some from other states but we take only one or two students from Western Australia per year, and send only one or two optometry graduates to Western Australia per year.
'To bring this tally up to the ratio of optometrists per population that we see in the eastern states, we need to be sending 20 optometry graduates to Western Australia per year for the next 10 to 15 years.'
Professor Pesudovs said a separate optometry school at Curtin would not be viable as 50 to 60 students a year would be needed. Setting up a partnership with Curtin to offer 20 students a place at Flinders was the feasible alternative, he said.
However, offering places to WA students will be at the expense of SA students as 20 fewer SA students per year will be offered a place in the Flinders optometry course.
'We usually take 54 to 63 first-year optometry students, so we will now take 20 fewer students annually from South Australia to make way for 20 Western Australia students,' he said.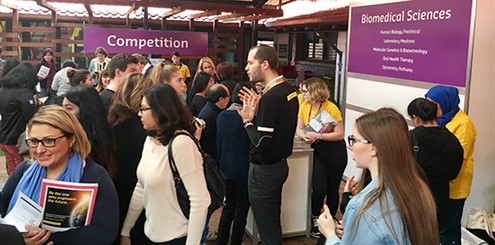 Students at Curtin University's open day on Sunday   Image: Curtin University
Places guaranteed
Professor Pesudovs said the deal would help overcome barriers to studying such as moving interstate. Leaving school and moving interstate were sometimes difficult when combined with first-year university but enabling first-year studies in the home state would make a move interstate in second year not so difficult, he said.
'Curtin's human biology preclinical first year is an excellent program and equivalent to ours, and will enable a seamless transition to Flinders second-year optometry,' he said.
'We can guarantee them a spot here; if they enrol, pass and reach the standards, we will definitely be taking the Curtin students.'
Rural scholarships
Curtin University Dean of Learning and Teaching, Faculty of Health Sciences, Associate Professor Georgina Fyfe, told Australian Optometry there was much interest in optometry at the open day.
'It was an untested market but we probably gave away about 100 optometry fliers,' she said.
'We are very happy to be partnering with Flinders which offers one of the premier optometry courses in Australia including articulated undergraduate and Masters degrees in optometry, and to be offering students the chance to do some study in Western Australia.
'We hope this will bring more optometrists to Western Australia, especially rural areas, and we will be looking for industry support for rural and remote area scholarships.
'Flinders is our closest neighbour and we have a good working relationship. We look forward to working closely with Flinders and may be able to forge other health vocation partnerships,' Professor Fyfe said.
Optometry Western Australia CEO Tony Martella said he was pleased to see that Western Australian students would have a chance to stay at home and avoid the disruption of relocating in their first year of study.
'This opportunity will give these local students interested in studying optometry, but who were possibly hesitant in having to relocate interstate, a chance to take up the profession. I'm pleased that there has also been positive collaboration between the two universities in making it happen,' he said.
A Diploma of Optometry course ran from 1947 to 1968 at The University of Western Australia.
Filed in category:
Uncategorised