Read time:

1:30min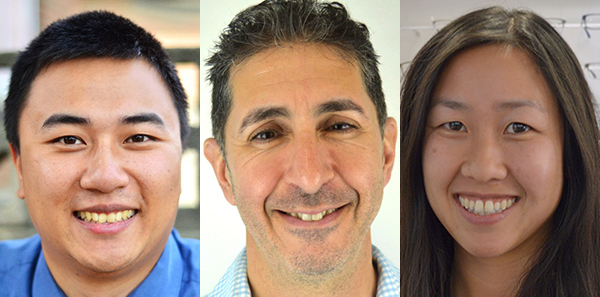 L-R: Dr Alex Hui, Dr Anthony Maloof, Jessie Huang
_____________________________
By Helen Carter
Journalist
Infection, inflammation and pain management are the three main indications for oral medications in eye care, Super Sunday delegates will hear.
Lecturer in therapeutics at the University of New South Wales School of Optometry and Vision Science Dr Alex Hui will discuss the top ten oral meds in eye care at Optometry NSW/ACT's Super Sunday conference on March 11.
Canadian-born Dr Hui completed his optometry training in Canada and parts of the US. Unlike optometrists in Australia, optometrists in parts of Canada, the US and New Zealand can prescribe some oral medications for eye conditions.
In Australia, optometrists who are therapeutically endorsed can prescribe topical ocular medications including eye-drops and ointments for eye conditions, but cannot prescribe oral medications. Instead they must refer patients requiring prescription oral medication to GPs or ophthalmologists.
'I will be discussing conditions optometrists are generally comfortable prescribing oral medications for in other countries with comparable levels of training, the types of oral medications that optometrists in Australia could prescribe if they were legally allowed to, and how to use these medications clinically,' Dr Hui told Optometry Australia.
'I won't be focusing on conditions or treatments which require monitoring of other body systems with things such as blood and urine tests or come with significant ocular or systemic risk, as I would generally consider these outside the scope of typical optometric management.'
Dr Hui said he would focus on acute eye conditions which may need systemic therapy, rather than emergency type presentations requiring urgent ophthalmological or hospital care. He will discuss why oral therapies which affect the whole body are sometimes required over therapies that just treat the eye directly.
Examples of what might be commonly prescribed would include antibiotics such as penicillin for eyelid infections or paracetamol for ocular pain management.
'Therapeutically endorsed optometrists in Australia should already be doing their due diligence and asking questions whenever prescribing anything, including if patients have any allergies or conditions which would affect what drugs could be given, and this would continue when considering prescribing oral medications,' Dr Hui said.
He said his general feeling was that most ocular conditions presenting to optometrists can be comfortably managed with local topical therapy applied to the eye, or if needed, more invasive local therapy such as injections to the eye from ophthalmologists.
Better response
'But in some conditions, such as infection of the eyelids or prophylaxis against ocular herpetic disease, the oral route is the way to go,' he said.
'A lot of bacterial and viral eye infections cannot be treated topically due to the nature of the infection and limitations of topical therapy, and so require oral medication. Some inflammatory conditions, including meibomian gland dysfunction and scleritis, may also respond better to oral therapy.'
Dr Hui said pain management was another area for potential systemic intervention.
'Optometrists may not often think about systemic pain management,' he said. 'Some optometrists overseas in certain jurisdictions however can prescribe powerful agents for pain management including opioids.'
'I will be discussing more common over-the-counter pain medication including paracetamol, aspirin and ibuprofen, how they may be useful optometrically and importantly, the potential risks with their use. Paracetamol, for example, is included in a lot of different existing medication formulations and patients need to be careful to avoid accidental overdose, which could cause acute liver failure.'
Evidence for oral medication
Dr Hui will also review evidence supporting oral medication in the management of eye disease, and notes that evidence for some commonly used oral medication in eye care does not necessarily come from randomised clinical trials.
'One example is the use of the tetracycline antibiotic class for chronic ocular inflammatory disease, he said.
'They are reported to have anti-inflammatory properties and are thus used off label with some success to manage things such as blepharitis or meibomian gland dysfunction, but it should be noted that rigorous and systematic investigation into these ocular applications are generally lacking.
'However, they are used for similar purposes in other medical fields including dermatology, dentistry and oncology, providing some peripheral support for their use in eye care.
'I will also discuss how optometrists can work with GPs and ophthalmologists to co-manage patients if oral medication is needed but can't be prescribed directly.
'This could include discussion on suggested oral medicines and dosages in referral communications, as well as offers by the optometrist to monitor the patient while on oral treatment.'
Dr Hui said that in some areas of the US optometrists can prescribe a wide range of oral medicines for eye conditions, including potential drugs of addiction such as opioids.
In other jurisdictions, the prescribing rights of optometrists are significantly narrower due to state and federal legislation, and oral prescribing by optometrists may not be available at all.
In Canada, optometrists have lists of oral medications they can prescribe from in different provinces. And in New Zealand, where the scope of practice has just been extended to include oral therapeutics, guidelines have been developed and are published to help the profession use these agents appropriately, he said.
Myths in clinical practice
Other Super Sunday speakers will include ophthalmologist specialising in corneal and oculoplastic surgery Dr Anthony Maloof, who will ask in his keynote address, if myths exist in clinical practice and discuss common misconceptions in optometry and ophthalmology practice.
A Centre for Eye Health panel comprising optometrists Michael Yapp, Jessie Huang, Angelica Ly and Jaclyn Chiang will discuss the 'big three' – how to detect progression with glaucoma, diabetic retinopathy, and AMD.
They will discuss what is the best way to detect progression and when change is significant, and will share clinically relevant tips on monitoring change in these three conditions.
Super Sunday will be at Big Top, Luna Park, Sydney on 11 March. The conference offers 30 CPD points including 24 therapeutic points.
Workshops and a seminar on Saturday 10 March at Crystal Palace, Luna Park offer 12 CPD points including six therapeutic points. After a wellness seminar on mindfulness for optometrists, workshops will focus on managing visual fatigue in patients and improving diagnostic ability through advanced imaging.
View the Super Sunday program.
Online registrations close 24 February.
Registration for Optometry Australia members
Registration for non-OA members
_____________________________
Filed in category:
Uncategorised