Read time:

1:30min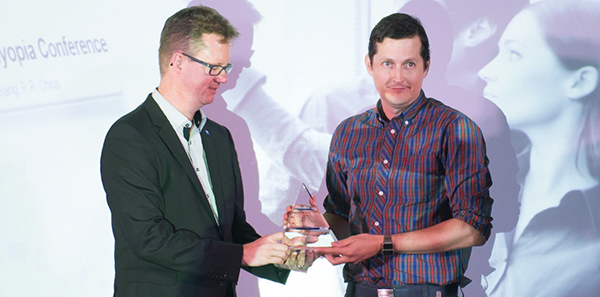 Associate Professor Scott Read (R) receives his Zeiss Young Investigator in Myopia Research Award from Timo Kratzer, Zeiss Vision Care
______________________________
By Helen Carter
Journalist
Increasing exposure to outdoor light is the key to reducing the myopia epidemic in children, according to ground-breaking research by Australian optometrists.
They said optometrists can now advise parents that children need to spend more than one hour and preferably at least two hours a day outside to help prevent myopia from developing and progressing.
Optometrist and lead researcher on the project, Associate Professor Scott Read with optometrist colleagues Dr Stephen Vincent and Professor Michael Collins, found that outdoor light appeared to be the main protective factor against myopia development and progression.
Their study found no protective association with outdoor physical activity or reducing near work as suggested by some previous studies. The research suggests that 'near work' on computer and other screens is not itself causing myopia although screens are responsible for children spending more time indoors than in previous years.
Professor Read, director of research at Queensland University of Technology's School of Optometry and Vision Science, will summarise the research and give prescriptive advice on what optometrists can advise their patients and the public about outdoor time and myopia when he talks at Optometry Queensland/Northern Territory's Australian Vision Convention on 2-3 April on the Gold Coast.
'It would be prudent for optometrists to advise that less than 60 minutes a day exposure to light outdoors is a risk factor for faster eye growth and potentially becoming myopic and myopia progression,' he told Australian Optometry. 'It looks like even for those with myopia, increasing time outside is likely to reduce progression.'
First evidence
'Our study provides the first evidence of a significant influence of objectively measured daily ambient light exposure on eye growth in childhood, consistent with more light exposure resulting in slower axial growth of the eye,' the researchers wrote in Invest Ophthalmol Vis Sci.
They found that greater daily light exposure was associated with less axial eye growth over 18 months, supporting the role of light exposure in the documented association between time outdoors and childhood myopia, and supporting the notion that there may be a threshold of daily light exposure required in childhood to slow axial eye growth and in turn, reduce the development and progression of myopia.
For every 1 log unit of increase in average daily light exposure, which in the study equated to approximately 90 minutes more daily outdoor light exposure, the axial growth rate decreased by 0.12 mm/y (about 0.3-0.4 D slower myopia progression).
'It looks as though light is the important factor,' Professor Read said.
'Ours was the first study to objectively measure children's light exposure and physical activity along with measures of eye growth over time, and has provided a new insight.'
The Role of Outdoor Activity in Myopia (ROAM) study followed 101 children, of whom 41 were myopic and 60 were non-myopic, from 42 Brisbane schools. They were aged from 10 to 15 years, the ages when myopia typically develops.
'Aussie kids generally spend more time outside than kids in many other countries, including some Asian countries with a high incidence of myopia,' Professor Read said.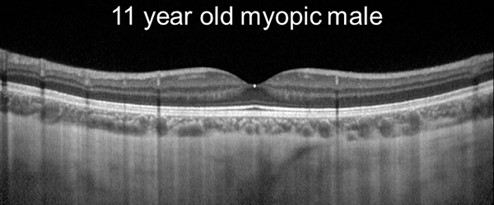 OCT scan of 11-year-old myopic male from the study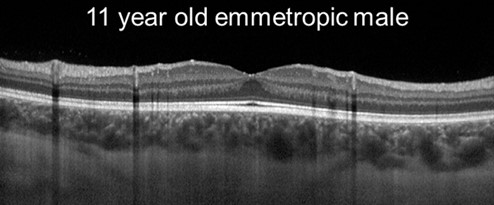 OCT scan of 11-year-old emmetropic male from the study
One-third indoors
'Still in our study one-third of kids spent, on average, less than 60 minutes outside a day. Half of these kids were myopic and a handful of the non-myopic kids in this group looked like they were heading towards myopia during the study.'                                     
Researchers measured children's eye growth along with OCT images of the choroid, highlighting novel eye growth changes in the posterior eye. Children wore wristwatch light sensors to record light exposure and physical activity for a fortnight during warmer then colder months to give an overall measurement of their typical light exposure.
Those who habitually spent less than 60 minutes in bright outdoor light levels were found to show significantly faster eye growth compared with those spending more time in bright outdoor light.
'Children exposed to the least outdoor light had faster eye growth and hence faster myopia progression,' Professor Read said.
'Our findings suggest the protective effect of being outdoors seems to be related to light rather than physical activity as the study found no significant relationship with eye growth and exercise. It seems unlikely that exercise has a protective effect as we found it wasn't a factor.
'While it is hard to completely discount near work, we included factors relating to near work in our analyses and these didn't appear to be significantly related.
'Other studies on myopia looked at the effect of outdoors and exercise but just asked questions about how much time children spent on outdoor activity and sports, which implied outdoor physical activity could be protective. We actually measured light exposure, physical activity and eye growth.
Intervention
'Lots of evidence is building that it is probably outdoor light that can affect eye growth and is a potentially useful intervention against myopia. A recent study found that adding 40 minutes daily of outdoor time led to less myopia in Chinese children,' he said.
'Our data found that low light exposure of less than 60 minutes a day outside puts kids at risk of faster eye growth and hence myopia development, so less than an hour outside a day in bright light looks to be a risk factor for eye growth and myopia and for myopic progression.
'Kids with moderate to high levels of outdoor light exposure in the study spent on average an extra hour outside per day than kids with low exposure so they were spending two or more hours a day outside.
'If you increase outdoor time by an hour a day, this is likely to have a positive effect on slowing eye growth and hence reducing myopia development and also progression if you already have myopia.'
Sun protection
Professor Read advises that children still need hats and sunglasses while outside. He said bright light outdoors was likely to have a protective effect even if sunglasses were worn as wearing sunglasses outside would still expose to more bright light than being indoors.
He said the hypothesis was that outdoor light stimulates the production of factors in the retina including retinal dopamine, which help to slow eye growth. Limitations included that it was an observational study and a larger, interventional study would need to confirm associations and prove the effect on eye growth, he said.
The research has been published in seven national and international optometry and ophthalmology journals.
In September 2015, Professor Read received the Zeiss Young Investigator in Myopia Research Award for his contribution to myopia research.  This is conferred by an international panel of senior researchers and involved the presentation of a key award lecture, the Josh Wallman Memorial Lecture at the International Myopia Conference in China. 
See also, other studies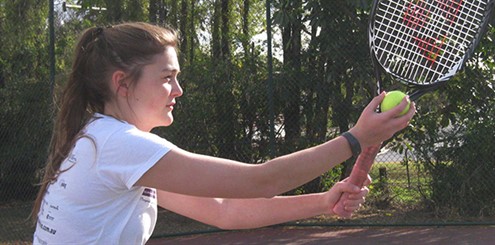 A study participant wearing the light sensor watch
AVC workshops
Delegates at AVC can choose two of six workshops covering topics from red eye grand rounds to dry eye and gland expression, scleral indentation and the lacrimal system. 
Optometry QLD/NT CEO Cathryn Baker said: 'Our main concept behind this year's design-your-own theme was that delegates are able to design their own program, with the addition of some fantastic workshops that run alongside mainstream lecture sessions.
'Attend a workshop or catch a lecture, it's their choice. We are really excited about the workshops this year. They provide such a hands-on dimension to AVC.'
The congress will feature breakfast sessions, a photographic competition, a SeaWorld dinner on the Saturday and optical dispenser session on the Sunday. An Employment Expo on Saturday will give potential employers and final-year students the chance to connect.
To attend the expo, contact Optometry QLD/NT membership and events co-ordinator Crystal Presotto c.presotto@optometry.org.au.
Australian Vision Convention 2-3 April 2016, Gold Coast
North Queensland Vision 2-3 July 2016, Cairns
Filed in category:
Uncategorised