Read time:

1:30min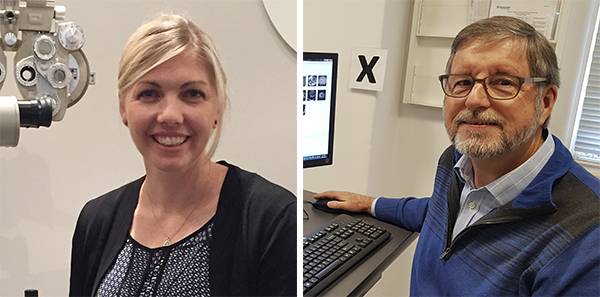 Karyn Campion and Kevin Adams
­­­­­­­­­­­­­­­­­­­­­­­­­­­­­­______________________________
By Helen Carter
Journalist
In the final of a three-part series on seven optometrists who have collectively chalked up 142 years of dedicated service to Perth hospitals, we look at the work of Karyn Campion and Kevin Adams.
Kevin Adams, Karyn Campion, Graham Fist, Rodney Hodge, Mei Kok, Ian Sim and Wilfred Tang have helped thousands of patients during their combined contribution. Their hospital service has shown the public and hospital patients and staff the valuable contribution that optometrists can make to public health. All are still working in the public hospital system.
PART 3. Fremantle Hospital
KARYN CAMPION
At Fremantle Hospital, Karyn Campion and Kevin Adams share optometry duties.
Mrs Campion obtained her optometry qualifications in South Africa in 1999 before practising in South Africa and Botswana. She then spent 10 years in private practice in the United Kingdom where she also did a stint in a Brighton hospital, helping with referral of cataract patients.
She moved to Australia in 2011 and for the past six years has worked in private practice.
While attending an Optometry Western Australia CPD event, she heard that Fremantle Hospital was looking for an optometrist to work one day a week. Optometry WA CEO Tony Martella put Mrs Campion in touch with the senior nurse.
Mrs Campion started at the hospital's eye clinic two and a half years ago, working on Thursdays in the retinal clinic in the morning, doing refraction and OCTs and helping the nurses. She has also helped train ophthalmology registrars in refraction. Staff in the clinic generally sees between 55 and 65 patients daily.
The afternoon clinic concentrates more on corneal work, including complicated keratoconic patients, post-corneal graft patients, minor procedures, and cataract patients pre- and post-surgery. It can get very busy with up to 60 patients seen in the afternoons.
'I thought the job would be fantastic, and it is,' she said. 'It's nice to have variety, working four days in private practice and one in the hospital. I enjoy it. You get to know the consultants, registrars and nurses and it's good to have that interaction.
'You also get to know some of the regular patients who come in for injections,' Mrs Campion said.
'There are challenging cases, more so than in private practice, but you see a mixture. Some patients are intoxicated, others are angry and aggressive, and we also see prisoners which can be confronting but there are some interesting cases and it can be very rewarding.
'A recent patient who had glaucoma, macular oedema and had had cataracts was depressed because his vision was not settling down and he couldn't watch television or do handiwork around the house. I found his vision was nearly 20/20 and all he needed was new glasses and it turned everything around. He was over the moon.'
Karyn Campion
KEVIN ADAMS
Kevin Adams works in two private practices and for 20 months has worked at Fremantle Hospital conducting an optometry clinic on Mondays.
In the morning he does diabetic retinopathy screening and in the afternoon he carries out imaging for fluorescein and occasionally ICG angiography. This is interspersed with OCTs and fundus photography for patients.
'It's mainly older patients but you'd be surprised how many young diabetic patients we have,' Mr Adams said.
'It's a different feel from private practice. You see some interesting cases and it's pleasant working with the nursing staff and registrars. It can be very busy but at times is quieter. It's rewarding because sometimes cases are urgent and you can see you are making a real difference immediately because people are at risk of losing their sight.
'Hospital work would be good for young optometrists to help expand their expertise. I think there's room for more optometrists in hospitals in Australia but funding is limited,' he said.
'When I worked in private practice in England, the emphasis was on retail as hardly any optometrists were therapeutically endorsed and most eye disease patients were sent to hospitals. Optometrists have important roles within hospital eye departments there, often triaging and running screening programs.'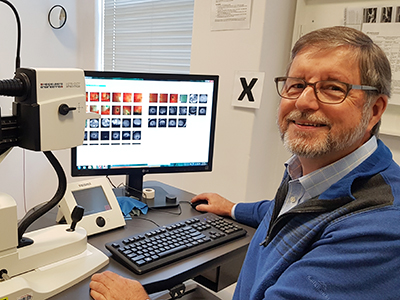 Kevin Adams
Outstanding commitment
Optometry Western Australia CEO Tony Martella congratulated the seven optometrists on their outstanding work, and also paid tribute to and thanked the other optometrists who had previously worked in the WA Hospital system.
'The WA community has long been supported by a dedicated and committed group of professionals in providing a high level of eye health and wellbeing through these efforts,' Mr Martella said.
'Time and again the profession of optometry has demonstrated its worth within the public health system through its ability to provide successful outcomes, collaboration and positive patient results.
'The commitment, as demonstrated by these individuals, in helping and treating those in need has not only been sustained over decades, which is remarkable in itself, but is truly outstanding.
'Without doubt, knowing these members as I do, working in achieving co-ordinated outcomes within a health team approach and improving their individual scope of practice and skills continues to be the driving motivation for these optometrists to care for patients as they do,' Mr Martella said.
'The Western Australia public hospital system has been greatly enhanced and is fortunate to have these skilled and committed individuals involved in these clinics. I actively encourage any member who is considering such a role to do so wherever the opportunity may present.
'It's apparent that the rewards are significant on both a personal and professional level, hearing the story of each optometrist involved. I thank them for being Optometry Western Australia members, and for the service and care they have provided.'
PART 1. Ian Sim, Mei Kok and Graham Fist from Royal Perth Hospital 
PART 2. Rodney Hodge and Dr Wilfred Tang from Sir Charles Gairdner Hospital 
Filed in category:
Uncategorised