Read time:

1:30min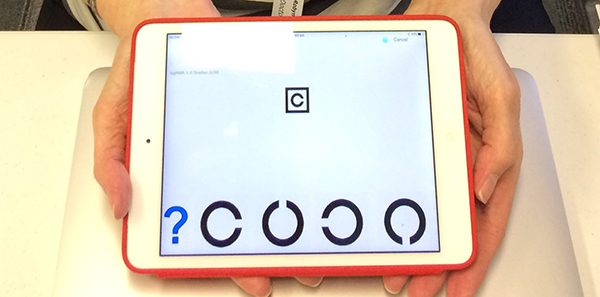 By Philip Ritchie
Journalist
Researchers are working with an app to enable age-related macular degeneration patients to self-monitor.
Robyn Guymer, deputy director of the Centre for Eye Research Australia and Professor of Ophthalmology at the University of Melbourne, is testing the app on her AMD patients.
Yesterday, she was presented with the Bayer Global Ophthalmology Award for the technology.
With the app complete, requiring only a tablet to work, it could help remedy the delayed detection of wet AMD, which sees permanent central vision loss in as little as days or weeks, Professor Guymer says.
Current testing methods are inadequate when dealing with such a fast-acting disease, she says, and the app has already shown promise.
'At the moment patients have a little piece of grid paper and they're asked to observe it and ring us if they think something's gone wrong,' Professor Guymer said. 'What we tried to do is get into the 21st century and use an iPad. We know people don't do the bit of paper well.'
Professor Guymer is monitoring 20 people's vision at home and comparing the results with those of another 30 people who are tested in the clinic because they don't have an iPad at home.
'We have patients who are at high risk of losing vision who are at home monitoring their vision with this app, and we have a PhD student, Selwyn Prea, who's just started, who will monitor their responses. Ultimately you could even send them an email to say: we're worried about you.'
At first, Professor Guymer used a prototype app designed with colleagues from the University of Melbourne to test for wet AMD. Now a new version of the app is being tried.
Called MRF Macular, it was developed by Glance Optical and incorporates features of a similar app that was successfully used to detect glaucoma, MRF Glaucoma. Dr Guymer said her team has helped to optimise the software.
Fast and intuitive
Dr George Kong, an ophthalmologist from the Royal Victorian Eye and Ear Hospital, says the most pleasing aspect so far has been how well-received MRF Macular is. He co-developed the MRF Glaucoma and MRF Macular apps with optometrist Professor Algis Vingrys from the University of Melbourne.
'The test is not burdensome to patients because it is very fast, about two minutes per eye, and an intuitive voice guides patients,' Dr Kong said.
He says one of the remaining challenges is keeping patients coming back to the app. 'We believe patients will be more engaged if the test is presented in the form of a game with graphics and interactive elements. This is something we're working towards,' he said.
A separate study, published this month in JAMA in an article titled 'Prevalence of age-related macular degeneration in Australia', was led by Dr Stuart Keel, an optometrist from the University of Melbourne and colleagues from Victoria. It highlighted just how at risk of AMD the Australian population is.
Using a nationwide survey, which included about 5,000 participants, the researchers found AMD to be the main cause of vision loss in more than 11 per cent of non-Indigenous Australians above the age of 50 years, and one per cent of Indigenous people above the age of 40 years.
The researchers say they chose different ages for the two groups based on the rapid progression and early onset of eye-related diseases permeating the Indigenous population. They warn that AMD could become a widespread issue in the coming years.
'With a significant ageing of the Australian population and an increase in life expectancy, improved access to low vision rehabilitation services may be required to cope with the burden of AMD,' the researchers wrote.
The main problem with AMD was people were not seeking help early enough, Professor Guymer said.
'The vision that you walk in the door with predicts the vision that you end with. People come in too late,' she said. 'The drugs we have are spectacularly successful, but you have to get there early enough.
'Hopefully health insurance companies will pay some money for people to be remotely monitored, rather than having to come in for their regular appointments.'
While the MRF Macular app is still going through clinical trials, it's available to download from the App Store.
To get the early-detection benefits, users would need to sign up for a monitoring program and enter their optometrist's details. They could then be alerted to changes in eye health, Dr Kong said.
'We are on the cusp of exciting changes in patient-centric eye care.'
Global Ophthalmology Awards Program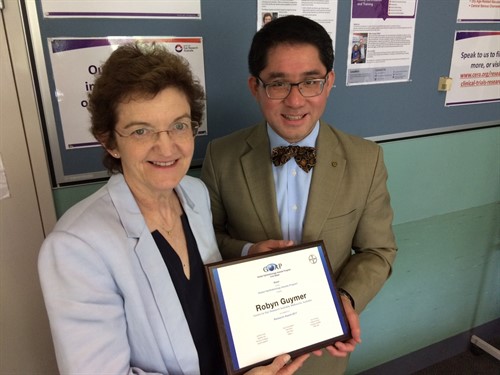 Professor Robyn Guymer with Co-Chair of the Grants Review and Awards Committee, Professor Quan Nguyen
Image: Mark Pearce

Launched in 2012, the Bayer awards program recognises advancements in the ophthalmology community and ways to better manage retinal disorders.
Award recipients are chosen by an independent Grants Review and Awards Committee, a group of 13 doctors and professors from a dozen countries. Four criteria are used to judge the winner: merit of the applicant, a rationale, the potential for career development and the level of commitment to ophthalmology. 
* JAMA Ophthalmol. Published online October 12, 2017. doi:10.1001/jamaophthalmol.2017.4182 
Filed in category:
Uncategorised