Read time:

1:30min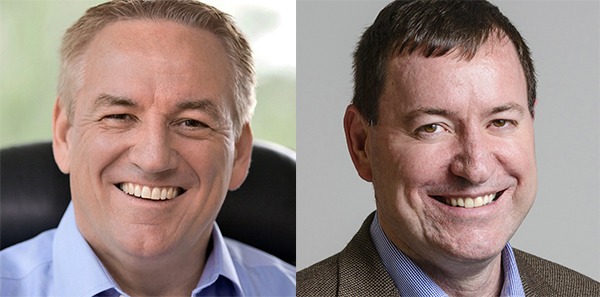 Steven Johnston (L) and Klaus Bartosch
______________________________
By Rhiannon Riches
Assistant Editor
More than 80 ProVision practices have partnered with online appointment booking system, 1st Available and more are expected to follow.
1st Available is an Australian online health portal that allows patients to make appointments online with a range of health professionals, including optometrists.
It also allows patients to select the type of optometry appointment they want, including an eye examination, an initial contact lens consultation, a children's vision test, a glaucoma screen test, or an emergency consultation.
ProVision CEO Steven Johnston said more than 80 ProVision practices had signed on to use 1st Available's services, following a successful pilot involving 20 ProVision practices.
'There was demand, a need, among our members for an online booking system. In the past, members have relied on an enquiry form on their own website for new patients to fill out, but that still requires staff to make the booking, so that wasn't a user-friendly system for the patient,' Mr Johnston said.
'We've been contemplating this space for some time,' he said. 'We decided to trial 1st Available with a pilot involving about 20 practices.'
1st Available managing director Klaus Bartosch said the ProVision pilot exceeded expectations.
'We set a target for the pilot with ProVision for a minimum number of new patients to book an appointment, as this particular number was regarded as a hurdle. ProVision received appointment bookings well in excess of the target, so we exceeded their return on investment goal,' Mr Bartosch said.
'We also received positive patient feedback about the system's speed and ease of use,' he said.
Under the new partnership, ProVision practices that have joined 1st Available will also have access to its new easyRECALL product.
'To remind a patient that they're due for an appointment, optometry practices today typically send a letter in the post, and if they don't get a response, they send a second letter, then send a text message or call. The direct cost of this is $2.50 to $4.00 per patient, plus the indirect cost in time, and optometrists do this weekly,' Mr Bartosch said.
'Our easyRECALL product reduces those direct and indirect costs. A special "smart" text message is sent to the patient with a direct link to the appointment booking portal preselecting the service they are to book online. The system already knows the details for the patient so they can make their appointment in just three clicks,' he said.
'It takes just one minute to send out a recall message regardless of how large or small your patient database is.'
Mr Bartosch said 1st Available will soon release another new product that is relevant to optometrists.
'Our easyFeedback module, which we're currently trialling and will release to the general market in December, allows any patients who have had an appointment with an optometrist to provide feedback to the practice about the consultation and their experience, allowing up to 25 custom questions to be asked, including leading sales questions and a Net Promote Score (NPS),' he said.
1st Available is offering independent optometrists who are members of Optometry Australia a special offer to join.
1st Available Limited is listed on the Australian Stock Exchange (ASX: 1ST), has now taken more than 4.6 million appointments online and is installed in more than 4,000 locations in Australia.
ProVision has a network of 440 independent practices.
Filed in category:
Uncategorised