Read time:

1:30min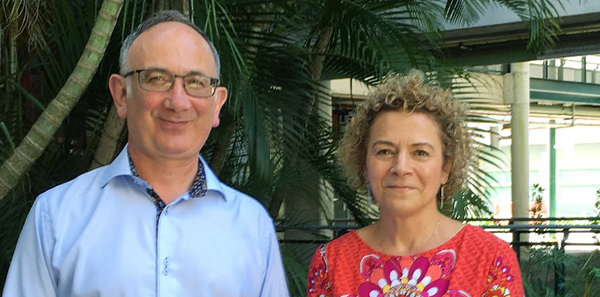 Professor David Elliott and Professor Joanne Wood
______________________________
By Helen Carter
Journalist
Coloured overlays and lenses on spectacles can improve reading and visual symptoms in children with reading difficulties but improvements are likely to be due to a placebo effect rather than a real effect, a recent editorial suggests.
In the editorial and critique, freely available in Ophthalmic & Physiological Optics, leading optometrists and vision scientists Professor David Elliott from the UK and Professor Joanne Wood from Queensland suggest any improvement is likely to be due to the placebo effect.
They told Optometry Australia that there was plenty of evidence that coloured lenses and overlays work as a placebo in improving reading and visual symptoms in some poor readers, but they questioned whether optometrists should explain to patients that it was likely to be a placebo effect and whether patients need wear them only short term.
The editorial addresses some of the problematic issues associated with using coloured filters for improving vision-related symptoms and reading, and aims to clarify new evidence about coloured overlays and lenses, and reduce confusion among the public and scientists.
Professor Elliott, editor-in-chief of the leading optometry journal Ophthalmic & Physiological Optics and Professor of Clinical Vision Science at the University of Bradford, UK, is on sabbatical leave at Queensland University of Technology. He is editor of the evidence-based optometry procedures book Clinical Procedures in Primary Eye Care, and his research has largely focused on answering clinical research questions.
Professor Wood, from QUT's School of Optometry and Vision Science, has extensive research experience in children's functional vision and is a member of the editorial board of Ophthalmic & Physiological Optics.
Confusion and discussion
'We believe optometrists are being asked more often about these lenses by parents whose children are struggling at school,' the professors told Optometry Australia.
'There is a lot of confusion over this issue and a recent review led to a lot of discussion and correspondence by scientists and the public.
'New  evidence (colour choice) (repeatability) about Intuitive Precision coloured overlays and lenses has also become available, specifically about male/female differences, with approximately 42 per cent of girl users wearing pink, purple and rose coloured Intuitive Precision lenses, yet only 24 per cent of boys wearing these colours,  and poor repeatability.
'Our critiques of earlier studies confirm the poor repeatability and highlight misinterpretations in the early reports. The suggestion that a precise colour is needed has more evidence against it than supporting it. The poor repeatability and lack of evidence for the need for precision in the colour choice indicates that the provision of specialised spectacles with a highly specific colour is unnecessary,' they said.
They wrote: 'One of the main reasons that treatment with coloured overlays and lenses is popular is that these coloured lenses seem to "work" and lead to improved reading and reduction of visual symptoms for many children.
'The evidence from reviews of randomised controlled trials is that improvements in reading due to coloured overlays and lenses are no bigger than improvements in control groups i.e. any benefits are due to non-intervention and placebo effects.'
Advice to optometrists
Professor Elliott and Professor Wood told Optometry Australia: 'After checking that the reading problem is not due to refractive or eye muscle co-ordination or even ocular pathology, then the clinician should consider referring for phonics instruction, which has strong evidence for its efficacy in improving reading.
'If none of these options works and if the optometrist feels comfortable and has sufficient expertise, they could then offer coloured filter treatment, usually as an overlay in the first instance.'
They said an argument could be made that it did not really matter if improvements were due to the placebo effect if it helped the child, and there was no documented evidence of harm from coloured lenses. However, they questioned whether the clinician should be prescribing highly specialised lenses if they knew they were only providing a placebo effect.
'Should the patient be wearing these lenses for the rest of their life or just for a short period while it provides improved reading effects?' they asked. 'And what should the clinician say is the rationale behind the treatment? Should they conceal the real underlying mechanism of the treatment (placebo) and if so, is this an appropriate basis for a patient-practitioner relationship?'
They said that Irlen and Precision stated that the colour had to be very precise.
'If it has to be that precise you would expect that if a patient chose a colour at their first visit, they would choose exactly the same colour on a second visit. However, this is not the case, which leads to major doubts about whether a precise colour, and thus a specialised pair of lenses, is needed,' they said.
More research
'We consider that there are some unanswered questions, but it is important that any new studies must consider the placebo effect and compare effectiveness of any coloured filters against the placebo, that is, randomised controlled trials. There is absolutely no need for any more 'open' studies that just show that the coloured filters work.'
Filed in category:
Uncategorised