Read time:

1:30min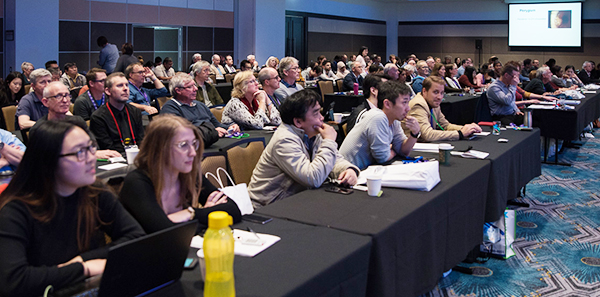 Image: Pete Gardner Photography
______________________________
By Helen Carter
Journalist
Optometrists enjoyed quality presentations and collegiality at WAVE17 in Perth on 12-13 August.
 
Optometry Western Australia's CEO Tony Martella said: 'WAVE17 was the best ever because of the high calibre program. The content of the lectures and clinical workshops was fantastic, practical and hands-on.
'There was also a lot of interaction between delegates and exhibitors at the trade exhibition and the exhibitors did a roaring trade.'
 
Western Australian Vision Education congress offered for the first time a practice staff professional education program which Mr Martella said was well received, good value and practical.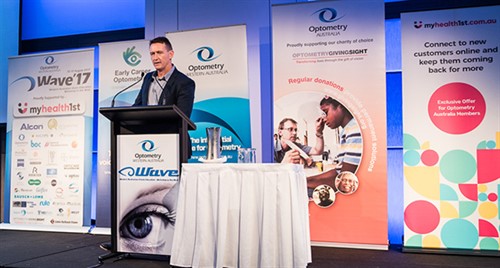 Optometry Western Australia president Darrell Baker at WAVE17   Image: Pete Gardner Photography
Optometry WA president Darrell Baker said WAVE continued its tradition of providing a rewarding combination of education and collegiality in the warm atmosphere of friendly interaction.
'WAVE has always attempted to provide engaging presenters, delivering education that has day to day, hands-on practice relevance, and this year was no exception. A mix of practical workshops and short, topical presentations proved a popular formula with the delegates, too,' Mr Baker said.
'In the midst of increasing CPD offerings, the attendance numbers showed the value Western Australian and interstate optometrists placed on this year's program, and the sponsors continue to rate WAVE as a valuable showcase for their activities.
'Tony Martella and his team have created a unique conference, providing a weekend of teaching, entertainment and a great take-home experience. We now have delegates from as far as Singapore and New Zealand regularly attending WAVE for their CPD and conference needs.'
Other features included a ProVision breakfast presentation on the Sunday, and a function on Saturday night sponsored by WAVE's platinum sponsor MyHealth1st, with drinks, canapés and a band at the congress venue, the Rendezvous Hotel at Scarborough Beach.
'The come as you are, straight from the lectures, format has been extremely popular with delegates,' Mr Martella said.  
 
Early Career Optometrists (ECOs) attended an ECO education program on the Friday night, at which speakers included Adrian Bell, Amira Howari, Stephen Leslie and Dr Antony Clark.
The program offered delegates up to 42 therapeutic CPD points. Next year's WAVE will be held on 11-12 August, again at the Rendezvous Hotel, Scarborough.
Filed in category:
Uncategorised