Read time:

1:30min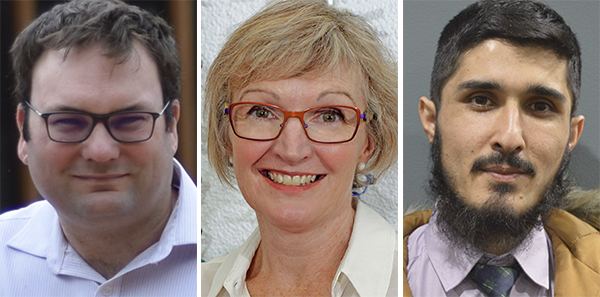 (L-R) Dr David Hammond, Jane Duffy and Khyber Alam
______________________________
By Helen Carter
Journalist
Helping optometrists understand cultural sensitivities around treating Muslim patients is the focus of a project funded by the Victorian Optometrists Training and Education (VOTE) Trust.
Online resources, accessible worldwide, will aim to help optometrists feel comfortable caring for Muslim patients, so that preconceived ideas about what they can and cannot do don't compromise care.
It is one of two projects that have been awarded VOTE trust grants for 2016-2017. The other project helps optometrists translate research into practice.
Deakin University lecturer in optometry and vision science Dr David Hammond, Deakin senior lecturer in optometry Jane Duffy and former Deakin student, now practising at OPSM Glenorchy, Tasmania, Khyber Alam are developing the online resources to support care for Muslim patients.
Mr Alam, a youth leader in his Muslim community, was born in Pakistan, where his parents were refugees due to the Soviet-Afghan war. He returned to his home country of Afghanistan during the 1990s but after war broke out again in 2001, he travelled to Australia as a refugee when he was 13 years old.
Their project entitled 'Considerations when providing optometric care for Muslim patients,' received $4,325 in VOTE funding and will be completed by June 2017.
The online e-learning resources for optometrists will enhance cultural awareness and understanding of the cultural needs of Muslim patients, to improve health-care outcomes.
Okay to ask
Dr Hammond told Australian Optometry: 'Reflecting on my own practice as an optometrist, I didn't know much about it. If Muslim patients came to see me, I was not very aware of the cultural sensitivities or understanding of their culture or religious beliefs, and how I could fit in with those and provide good care.
'When Khyber came to Deakin as a student, I had many good discussions with him over the years so I wanted him to be involved in the project. We thought it would be a good project to inform people and even if people just take away this one message, that it is okay to ask if they don't know, that is fine.
'It aims to give knowledge so that optometrists and even other health-care professionals can feel more comfortable in providing good quality care, and not compromise care because of preconceived ideas about what they can and cannot do,' Dr Hammond said.
The resources will cover key beliefs of the religion, teachings including care of self and health-care teaching and philosophy, social behaviour, social dress, body language and social interaction.
They will also cover provision of optometric care including routine and emergency care, and when Muslim patients can visit optometrists of the opposite sex, and discuss areas such as if a male optometrist can touch a female patient's face.
To reinforce learning concepts, short interviews with Muslim patients talking about positive health-care experiences they have experienced will be included in the training.
'We are aiming for positive health-care experiences for all patients,' Dr Hammond said.
Translating research into practice
Dr Michael Pianta and Dr Laura Downie from The University of Melbourne received $6,293 of VOTE funding for their project which aims to support practitioners in critical appraisal, and in the use of a new interactive system that allows them to easily keep up to date with recent research.
The system will assist optometrists with interpreting the methodological quality of research studies, and help them identify high quality research that they can apply in their clinical practice.
Mitchell Anjou, the Optometry Board of Australia (OBA) nominated member on the VOTE Trust Grant Advisory Committee, said that in 2016, six VOTE applications were received from five organisations.
'The Grant Advisory Committee, comprising representatives from the OBA, Optometry Victoria, the Australian College of Optometry, University of Melbourne and Deakin University, was again very pleased with the standard and diversity of the applications,' he told Australian Optometry.
'Although the funds are limited, the continuing interest through application speaks to the importance of the fund to seed and initiate valuable ideas and projects.'
The VOTE Trust was established in 2010 by the then Optometrists Registration Board of Victoria and provides grants annually to support and advance the practice of optometry.
Over the first six years of the trust, more than $98,000 has been disbursed for 15 projects. These have broadly supported clinical teaching initiatives and innovations, as well as novel continuing professional education approaches and resources.
VOTE grants are awarded annually and applications generally close in June or July of each year. Additional information about the VOTE Trust is available on the OBA website.
OBA chairman Ian Bluntish congratulated the recipients on the high standard of their applications, which he said would benefit optometrists and their patients.
Filed in category:
Uncategorised